Selamat berweekend… mesti ramai yang tengah cuti-cuti Malaysia time school break ni yer.. Selalu hujung minggu aku punye malas tempek aje gambo-gambo model.. Hari ni terajin sikit pulak.. sikit je..
Ramai jugak yang tanya nak tau details pasal cuti cuti aku kat Bali awal tahun hari tu. Tak sempat-sempatnya aku nak jawab. Senang meh aku buat lagi satu entry.. especially about Villa Victoria yang sangat superb and travel agency yang arrange holiday we all kat sana.
Actually, kalau aku pergi holiday ke tempat yang pertama kali aku pergi, aku lebih suka pakai travel agent..senang, semua dah siap. Lagipun, yerlah first time kan.. tak tau lagi selok beloknya.. Patutnya kita pergi nak holiday bersenang lenang, time tu pulakla kang nak pening-pening carik makan kat mane.. nak pergi mana, nak naik apa.. malas la mak! Spoil mood holiday je. Then kalau dah pergi, esok-esok pergi lagi.. baru lah kita boleh arrange sendiri.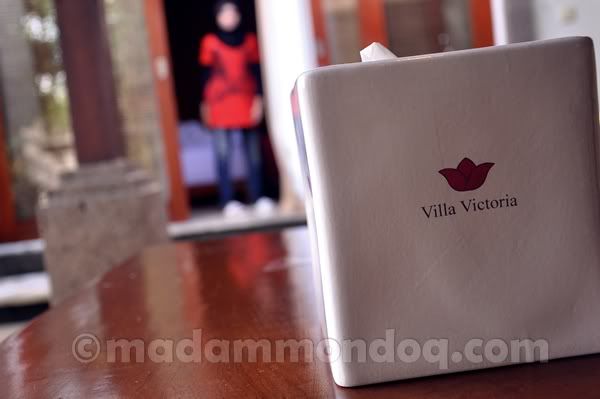 So far banyak comment nak tau pasal harga.. Yerlah! Aku boleh membebel-bebel.. tapi tak cerita berapa harganya yek.. hehe.. sorry lah yek..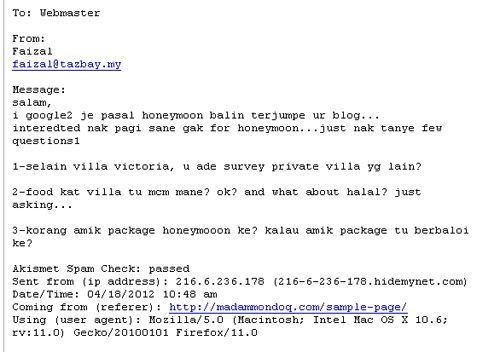 Antara email-email yang request more details pasal Villa Victoria.. tersangkut jugak blog ku kat google yek? ahakss..


Ok.. meh aku ceciter  jawab satu-satu…
This Bali trip di arranged by  Sedunia Travel. Ingat tak masa aku menang second place in My Amazing Child Mead Johnson. So hadiah travel vocher is sposored by Sedunia Travel. Itulah asal usul jodoh pertemuan kami.. hehe.. So semua apa  segala bagai booking hotel, transport, tour.. diorang yang arrange. Cume nama Villa Victoria, kami yang request. Suggest by my Laling friend yang dah experience dulu stay  kat sana.
Food kat hotel,  we all cuma makan time breakfast je… yerlah lepas tu kan merewang menjajah Bali. So, breakfast diorang akan bagi option sama ada western atau local. We choose local macam yang ada kat gambar tu. Nasik goreng… best gak nasik goreng dia…
Pakej yang kami ambik ialah pakej honeymoon… cuma kitorang dah custom sikit. Itu boleh discuss and nego dengan Travel agent. Kat website Villa Victoria boleh terus  book  online in case kalau nak arrange sendiri korang punya holiday tu…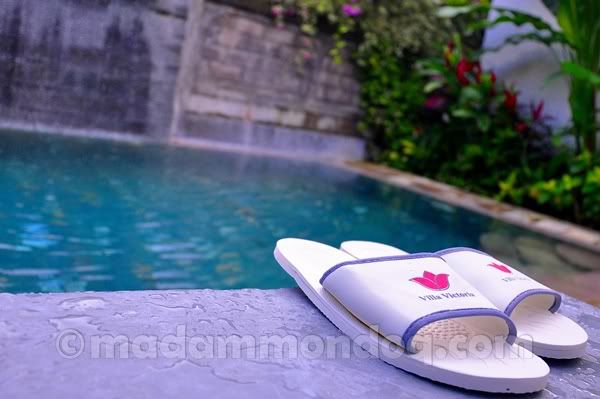 Maklumat Tambahan :  Location Villa Victoria ni memang jauh dari bandar Kuta (ada la 45 minit kot kalau jem). So kalau malam memang sunyi… sesuai sangatlah kalau nak berhani-hanimoon. Kalau nak berjimba-jimba havoc-havoc nightlife ke apa bagai.. pi carik hotel kat area Kuta. Kat sana semua tempat berjimba walking distance je..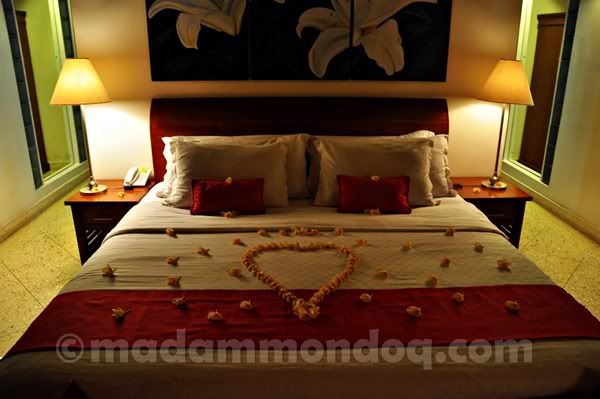 Ok.. bab harga..
Total pax        : 2 adults
Hotel                : Villa Victoria – 1 Bedroom Pool Villa with daily breakfast
4 days 3 nights Bali Itinerary :
D1       Airport Pick up + Seafood Dinner at Jimbaran (Dinner only)
D2       Fullday Tour – Celuk, Mas, Kintamani, Buffet Lunch, Uluwatu  (Breakfast / Lunch / Dinner)
D3       Tanjung Benoe, Bedugul, Tanah Lot (Breakfast / Lunch / Dinner)
D4       Transfer out (Breakfast only)
As mentioned, you may choose the tour as below :
Mon & Thu      : Kintamani,Celuk,GWK (LD)
OR
Tue & Fri      : Tanjung.Bedugul,T Lot (LD)
Bali package :
Cost per adult for 4 days 3  nights package :
RM 890.00 x 2 pax        =    RM 1,780.00
Total price tu termasuk stay kat Villa Victoria 3 Malam, Full board meals and tour.
Tapi Alhamdulillah kos ini telah disedut untuk kami.. guna vocher yang aku dapat tu.. wink!
Selain Villa Victoria, banyak gile lah villa lain kat Bali ni. Ada lagi yang giler luxury. Tapi tak berbaloi lah kalau ambik hotel mahal-mahal tapi cuma buat tido malam je… siang merayap.. huhu..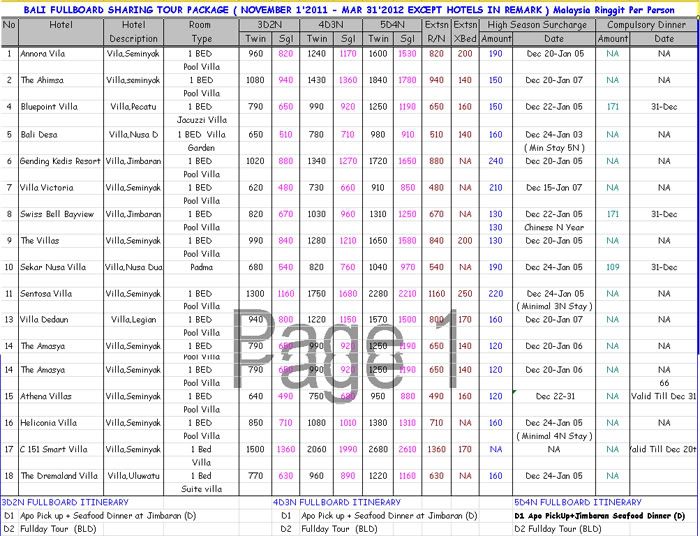 Boleh lah kalau nak buat guide… Antara Villa-villa yang ada private pool. Rate price ni dari Sedunia Travel. Tapi tak sure untuk latest price. Better check kat website dia ok..
Rasa nanti nak datang lagi.. banyak lagi tempat tak dijajah…
Boleh lah terjah Sedunia Travel kot-kot ade pakej yang berkenan yek. Alaa.. kerja-kerja jugak..sekali-sekala kena jugak reward yourself maaa.. hehe.. So.. harapnya segala persoalan yang ditanya telah terjawab yek.. anything nak tanya lagi just leave komen or email jek lah k..
HUG DEEP.. DEEP..
DONE!