Ok.. mari layan kisah makan-makan pulak.. lama rasanya tak tayang gambar makanan sedap-sedap kat ualllzzz…
 Kali ni aku nak story one of the best restoran masakan melayu pelbagai tradisi di KL.. iaitu ENAK KL.
Actually.. aku dapat invitation Lunch For 2 di Enak KL ini daripada Bakal Adik Ipar aku ni ha.. eh.. bakal ke? ahakssss…. Thanks a lot lah to you yek! Memang tak sia-sia i datang Starhill untuk lunch bersama laling tersayang sebab lauk pauk di Enak KL ni… fuh!!!! menambat hati betul lah! So.. tanpa berceloteh panjang lagi.. marilah layan suasana Lunch For 2 i ngan laling di ENAK KL..
Layannn…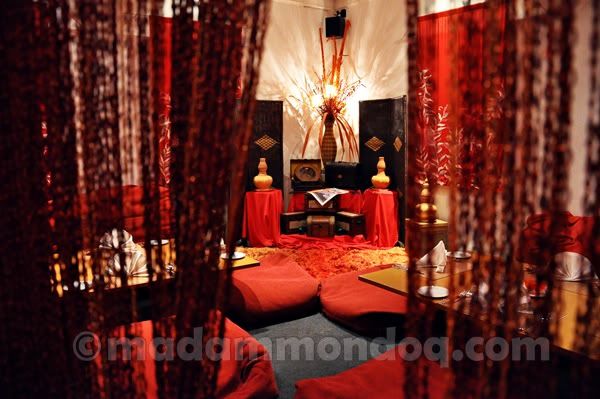 Giler cantik lah decoration one of the ruang yang ada dalam Restoran Enak KL ni.. yang part ni sesuailah untuk family nak bersantai-santai or bak kata Manager Enak KL.. pak-pak arab yang suka benor makan sambil bersantai kat sini..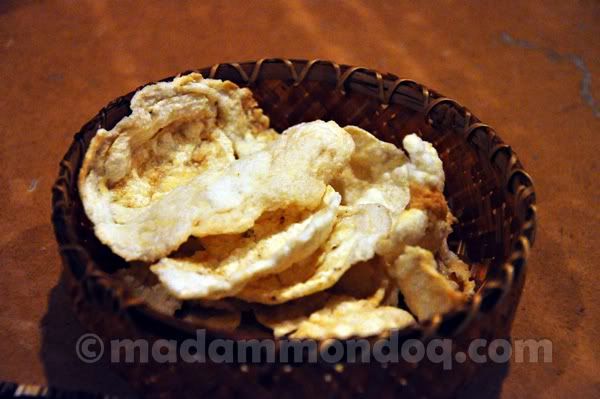 Sementara tunggu makanan sampai.. kitorang di jamu dengan kerepek emping ( Orang Jawa Panggil)  untuk kunyah-kunyah as tidbits sambil posing-posing.. Actually untuk Set Lunch For 2 ni kita dah tak payah nak ngadap menu yang pelik-pelik.. sebab dah ada beberapa pilihan yang disediakan.. just pilih mana yang berkenan di tekak jek..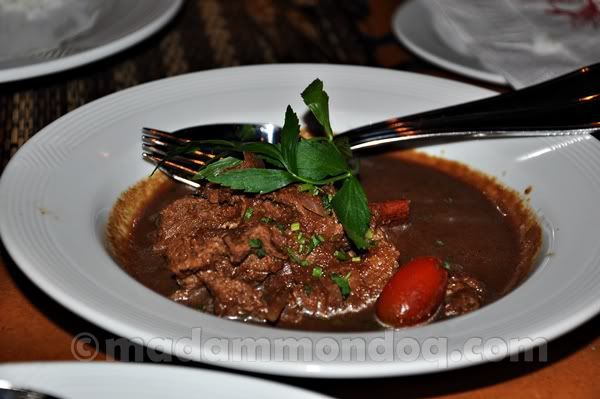 Ok.. lauk sudah sampai! Antara lauk-pauk yang aku pilih ialah… Daging Semur.. sedap jugak.. ala-ala rendang manis-manis sikit gitu..
 Ayam Masak Lemak Cili Padi… one of my feberet… Ayamnya sangatlah lembut.. tapi tak berapa pedas sangat.. kalau pedas lagi umpphh!!! sebab aku suka makanan yang pedas..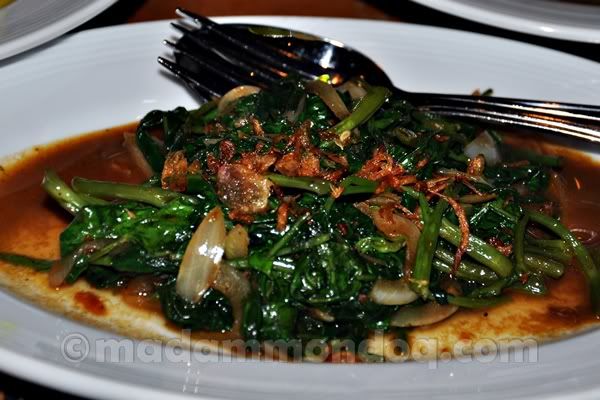 Kangkung Goreng Belacan… feberet my laling..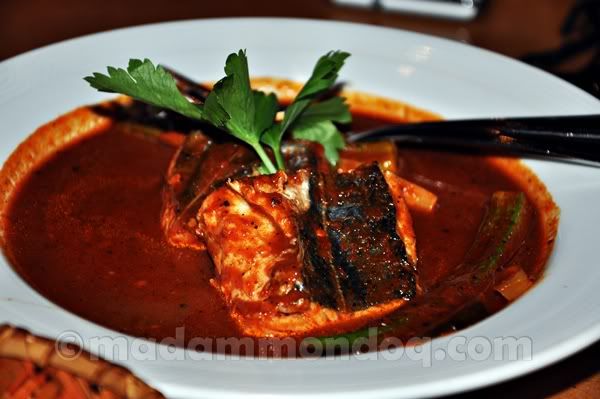 And.. tadaaa!!! The superb Ikan Masak Asam Pedas!!! lauk yang paling aku gemar sekali… and memang tak dinafikan.. sebagai anak jati johor.. ini adalah asam pedas johor yang terbaiklah!!! giler sedap ok! terasa pedas.. masam and kehangatan blackpeppernya…. ditambah lagi dengan isi ikan fresh yang sangat lembut!
 Meja dah penuh dengan lauk.. sebelum makan.. En. Hamidon, Manager Enak KL memberikan kata-kata aluan.. ceh! kata aluanlah sangat.. ekekeke.. takdelah.. dia just menjemput menjamu lauk-pauk yang dihidangkan tanpa segan silu.. (dia tak tahu.. aku kalau bab makan mana kenal erti segan silu kan? ahakss…)
 Ok.. jemput makan semua… memula sopan-santun je aku makan…
 Sekali dah pekena Asam Pedas.. terus hilang kesopanan aku.. haha..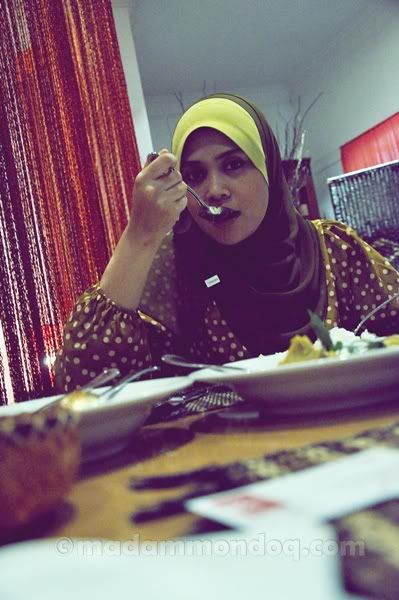 eh.. tak benti-benti pulak kan… mana taknya.. lepas dah habis nasi sepinggan tu.. aku dok me'jambal' pulak lauk asam pedas tu.. Ha.. belajar bahasa jawa lagi kita yek.. siapa tahu 'Jambal' tu apa? ehe..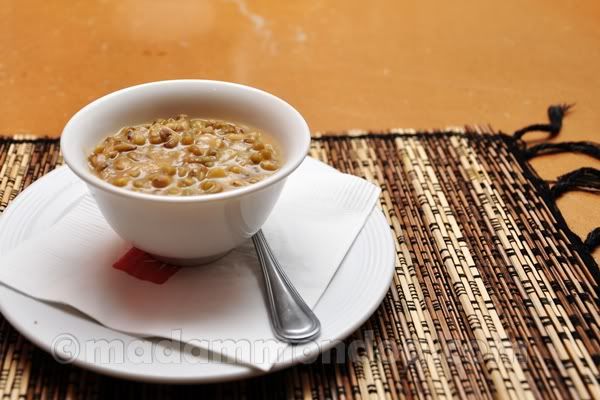 Then.. as desert.. Bubur Kacang Hijau panas-panas! Sedap.. sedang elok je manisnya…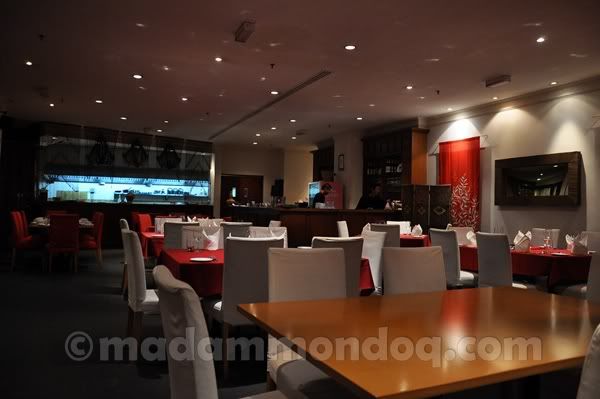 Antara ruang dalam Restoran Enak KL..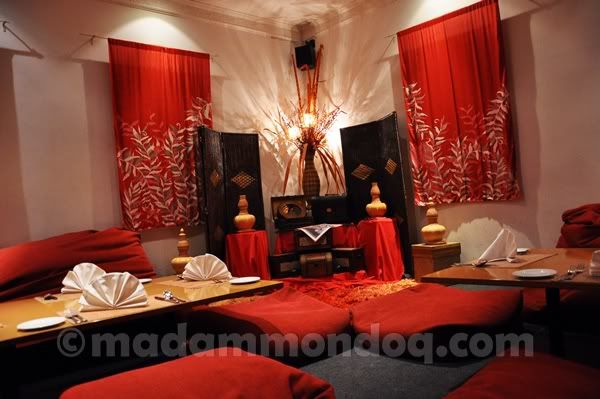 Zoom in sikit ruang bersantai tadi.. penuh dengan perhiasan tradisional di sekeliling..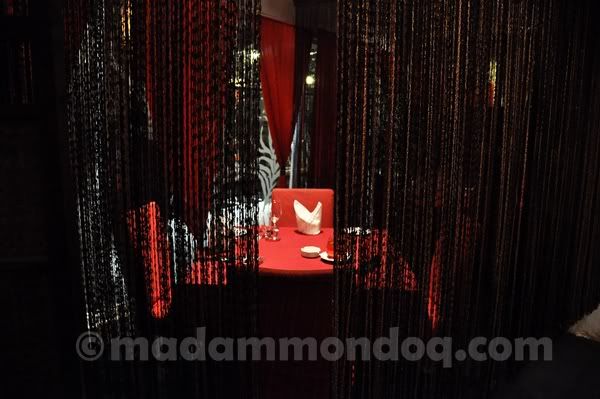 Ni pulak ruang untuk berdating or kalau nak more privacy sikit.. romantik sangat!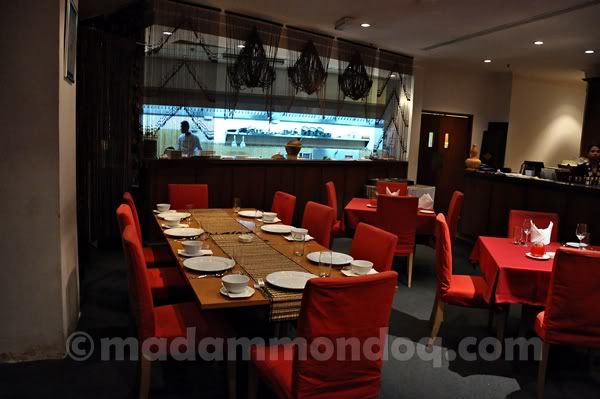 Combination warna merah putih tu memang kena sangat dengan keenakan lauk-pauknya..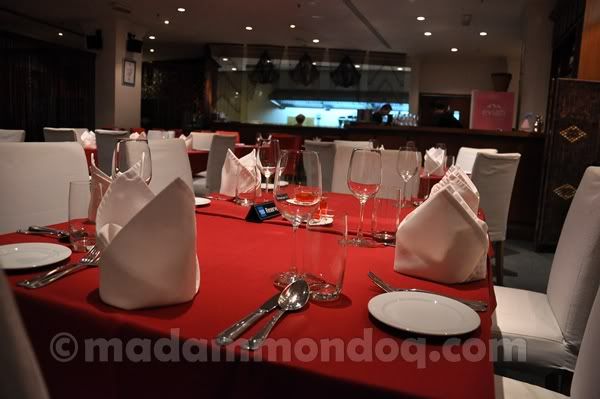 Memang sangat selesa dan superb lah kalau menjamu selera di sini..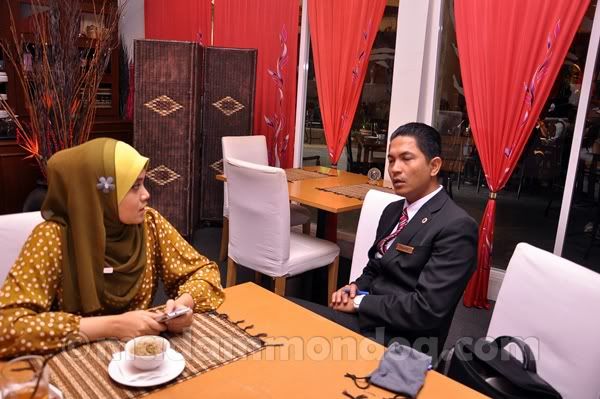 Then.. masa aku layan desert tu.. aku pun borak-boraklah dengan En. Hamidon tentang Restoran Enak KL ni.. kot-kot lah dia nak lantik jadi duta ke.. nak ajak JV bisnes ke.. hehe..
Actually this is the one restoran masakan melayu yang ada kat StarHill Gallery ni. Memang sesuai sangat dijadikan signature and promotion makanan melayu untuk guest-guest kat sini yang mostlynya foreigner. Ditambah pulak masakan melayunya terdiri daripada pelbagai tradisi dari beberapa negara.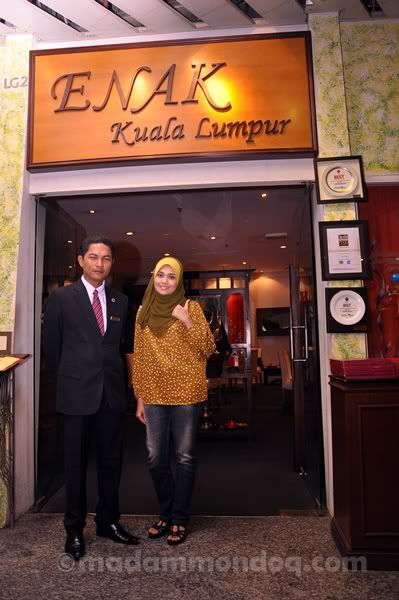 To me.. Enak KL sangat best!
Ualllzzz pun harus terjah sini untuk mencuba masakan melayu tradisionalnya.. pasti macam masakan ibu-ibu.. lazat!
ENAK KL


LG2, Feast Floor, Starhill Gallery,
181, Jalan Bukit Bintang,
55100 Kuala Lumpur,
Malaysia
Jom LIKE FACEBOOK  ENAK KL.. macam-macam promotion ada di sana!
HUG DEEP.. DEEP..
DONE!