P/s : sepatutnya entry ini dipublish pada 13 mei yang lepas.. Tapi oleh kerana keadaan kesihatan yang tidak mengizinkan.. Hari ni baru larat nak ngadap lappy and tekan publish.. Huhu..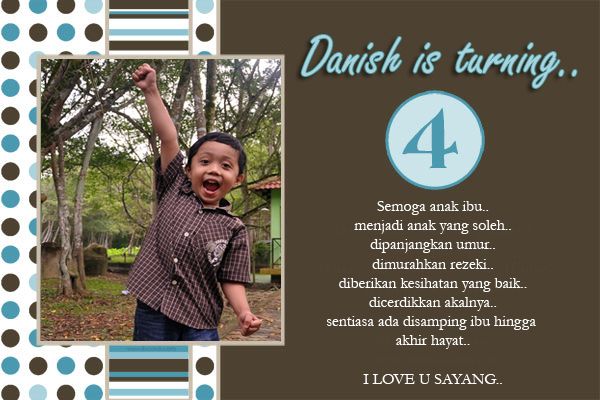 Hari ini 13 Mei..
Hari yang bersejarah.. tapi bukan peristiwa bersejarah 13 Mei 1969 tu yek!
Tapi hari yang bersejarah.. sebab lahirnya the only sweet and cute our son Danish!
Pulak tu hari ini adalah Hari Ibu kan? So.. memang sangatlah sweetnya we all celebrate together..
Kalau korang tengok Danish macam tak percaya jek yang dia baru 4 tahun kan? Pergi mana-mana they all think he 6 years old! Memang sangat matured anak ibu ni.. even kat kindy dia pun principal tu heran.. kenapa dia tak sama dengan budak-budak 4 years yang lain..  bukan setakat fizikal je yang matured, tapi otak dia pun matured jugak..
Alhamdullilah.. ibu bangga ada anak yang cedik dan bijak  macam Danish.. semoga Danish sentiasa menceriakan hari-hari ibu dan ayah sehinggalah hujung nyawa kami ye?
LOVE U SON!
HUG DEEP.. DEEP..
DONE!