Salam Jumaat ualllzzz…
Dari dulu lagi aku memang suka hari Jumaat.. tak tahu lah kenapa.. may be hari Jumaat ni penghulu segala hari. Ermm.. aku kat PD ni.. outstation sampai Ahad kang.. huhu.. korang  bergumbira weekend ni.. aku kat sini kena kerja.. uwaaaaa!!! tak aci betol!
Ok.. sabar madam.. sabar..  ikhlaskan hati bekerja yek.. niat mencari rezeki sesuap nasi untuk keluarga… wink! Kalau niat dah betul.. barulah datang keberkatan tu kan? Sebut pasal keberkatan ni kan.. saja lah aku nak story tentang perlu ke ambil berkat orang yang baru pulang dari umrah atau haji ni yek?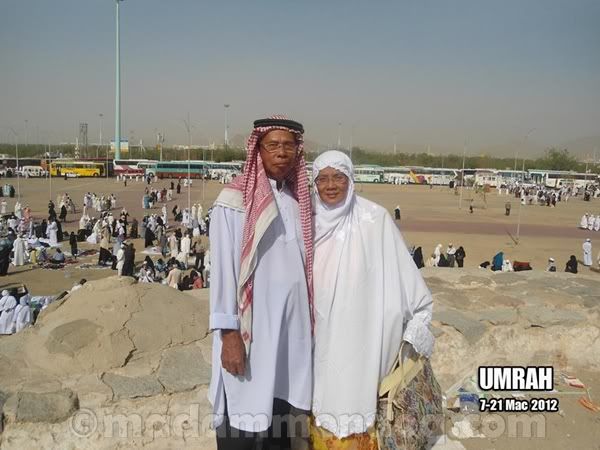 Alhamdulillah.. ibu dan ayah mertua ku selamat pulang dari mengerjakan umrah beberapa minggu lepas…
Korang pernah dengar kan orang kata kalau orang balik haji atau umrah ni.. elok pergi ziarah and ambil berkat. Macam-macam sebenarnya persoalan timbul pasal isu ni.. tapi yang pentingnya.. macam mana kita atau Islam itu melihat fenomena mengambil berkat tu supaya tak terjebak dengan sebarang fenomena yang boleh membawa kesesatan dan khurafat? uish.. nauzubillah…
Kalau kita tengok istilah berkat atau barakah tu adalah memohon restu Allah SWT agar dikurniakan kebaikan yang berkembang, kesejahteraan berpanjangan, kesihatan yang berkekalan sehinggalah berjaya dalam pekerjaan, soal jodoh dan macam-macam lagi lah..
Barakah ni adalah dengan keizinan Allah. Jika seseorang tu memohon Allah agar memberkati rezekinya, maka jika Allah kehendaki, Dia akan memberi barakah kepada seseorang itu.. ha.. itulah istilah sebenar barakah..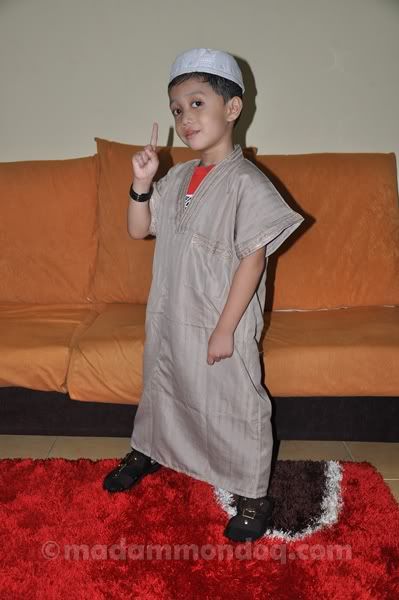 Danish posing dengan ole-ole yang nenek and atok belikan dari Mekah.. from head to toe ok! hehe..
Sambung kisah tadi.. jemaah haji adalah tetamu Allah yang Allah pilih menjejakkan kaki di Tanah Suci Mekah dan Madinah, melihat rumah Allah, Baitullil Haram, bangunan tertua di dunia yang penuh dengan keberkatan dan menziarahi makam Rasulullah dan para sahabat.
Apabila mereka pulang dengan haji yang mabrur, bermakna tiada balasan yang lain dijanjikan oleh Allah kecuali syurga. Apabila dijanjikan syurga bermakna para jemaah yang pulang ini adalah bakal penghuni syurga. Jadi, ambil berkat dan doa daripada bakal penghuni syurga adalah sangat digalakkan kerana pasti doa dari mereka akan dimakbulkan oleh Allah.
Ha.. begitulah istilah yang molek kita tafsirkan dengan ambil berkat dari orang balik haji atau umrah ye dok? Tapi kan.. janganlah pulak ada yang nak ambil berkat punya pasal sampai datang berbas-bas tunggu kat airport tu ha… tu macam dah gaya nak sambut apa pulak ye dok? Harus berpada-padalah kan..
 Dua tiga hari jugaklah dia asik pakai je jubah ni.. suka betul dia.. aku yang tengok ni pun sejuk je perut rasa kan..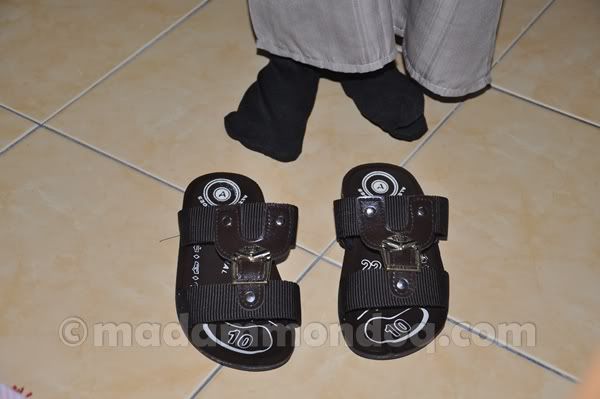 Selipar ni nenek belikan terbesor lah pulak.. tapi tak pe.. biar besar-besar.. boleh pakai lama.. kaki budak ni dah lah cepat je memanjang kan..
Sumber info : Utusan Online
HUG DEEP.. DEEP..
DONE!