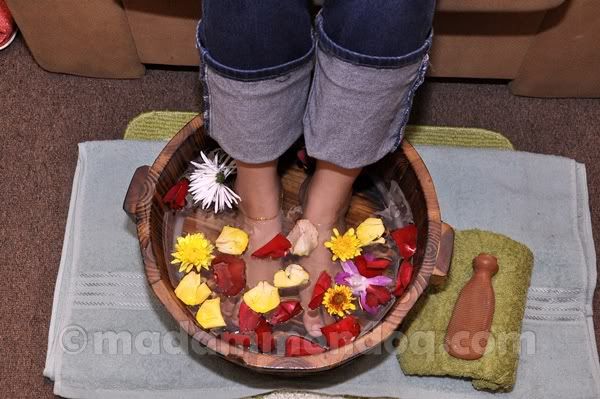 amboiii… syoknya dapat merendam kaki dalam ni yek.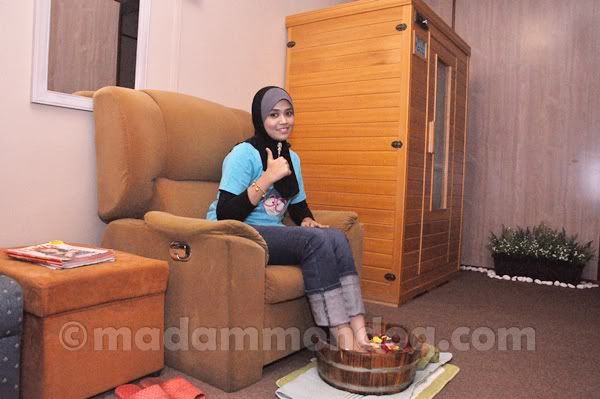 Sesi merendam kaki dalam air hangat + bunga-bungaan aka flower foot bath with rock salt ni memang free complimentary kalau korang berspa-spa di Anjung Jelita.. ha.. syok kan?
Actually hari tu aku dah review Anjung Jelita Spa ni kan.. now aku nak story pulak pengalaman aku mencuba 2 hrs : Sauna + Full Body Scrub + Full Body Massage. Uish.. memang best dan sangat relax lah.. Aku kalau tang berspa-spa ni memang wajiblah ambik package yang ada massage-massage ni. Pada aku.. itu yang main thing kita dapat merasakan ketenangan dan kesegaran badan lepas berspa. Ok.. jom.. kita mulakan treatment..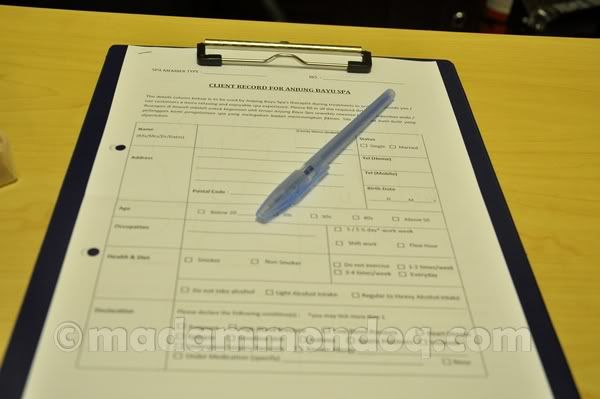 Eh.. sebelum tu.. setiap customer perlu isi details untuk direcord oleh Anjung Jelita Spa..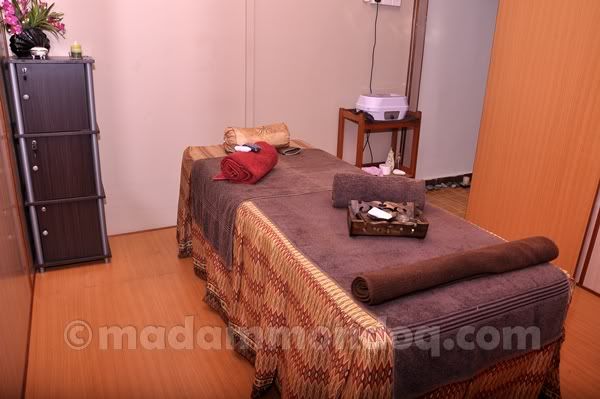 Ha.. ni Massage Room untuk aku buat treatment.. sangat selesa..
Then.. seterusnya tak payah lah aku nak tayang gambor ye dok? pepahamlah kalau buat spa ni kena bukak segala-galanya kan.. upss!! So aku ceciter jek lah.. First buat 45 minit body massage dulu. Ermm.. memang patutlah kan dah penat-penat kita sampai situ terus buat massage dulu.. kasi relax dan hilangkan segala kepenatan. Kakak yang mengurut aku ni pun sangat baik dan peramah.. sesi urutannya pun sangat best. Tak terlalu kuat.. dan tak terlalu perlahan.. kita boleh request lah nak suruh dia picit kuat ke perlahan ke… ikut ketahanan badan memasing lah yek.
Sepanjang 45 minit macam tu aku tak borak apa pun dengan kakak tu sebab dah syok sangat dia urut sampai aku tertido.. hehe.. Then.. lepas tu baru lah masuk Sauna Room yang canggih tu about 15 minit kot.. Sauna Room ni menggunakan teknologi infrared yang mana dalam tu ada batu-batu yang akan mengeluarkan haba untuk memanaskan badan. Then dalam Sauna Room ni korang suka hati lah nak tutup lampu then tido ke.. or nak bukak lampu then baca magazine or whatever kan..
Lepas sesi bersauna.. sesi body scrub pulak.. Ha.. kakak tu mengscrubkan badan aku bukan main lagi.. selalu kalau aku pergi spa lain tang scrub ni dia main sapu sekali lalu sambil gosok-sogok sikit je. Tapi kat Anjung Jelita ni.. kakak tu gosok and sental badan aku bukan main lama lagi.. berkali-kali pulak tu. Memang tanggal lah segala daki-daki yang melekat kat celah mana pun.. haha.. Yang paling aku suka sekali.. scrubnya tu hand made. Kakak tu kata dia buat sendiri dari beras pulut.. yogurt.. then apa ntah lagi.. aku tak ingat. Tapi seriusly.. memang best giler lah scrub tu. Kakak tu dah training kat Indonesia bertahun dah bab-bab spa ni.. that's why lah dia pakar buat benda-benda ni.
Lepas dah tanggal segala daki tu.. boleh lah pi mandi kat shower yang cantik tu.. Fuh… lepas mandi kan.. memang terasa kulit halus mulus jek kauuuu!!! Suka mak nak!! haha… Lepas dah siap mandi.. boleh lah menghias diri semula.. Habis dah 2 hours treatment. Memang sangat berbaloi services dengan harganya.. Eh.. berapa harganya tu???
Ha.. sila terbeliak kan biji mata korang tengok
the awesome price

yang

Anjung Jelita Spa tawarkan

untuk

Bulan Mac dan April

ini!!!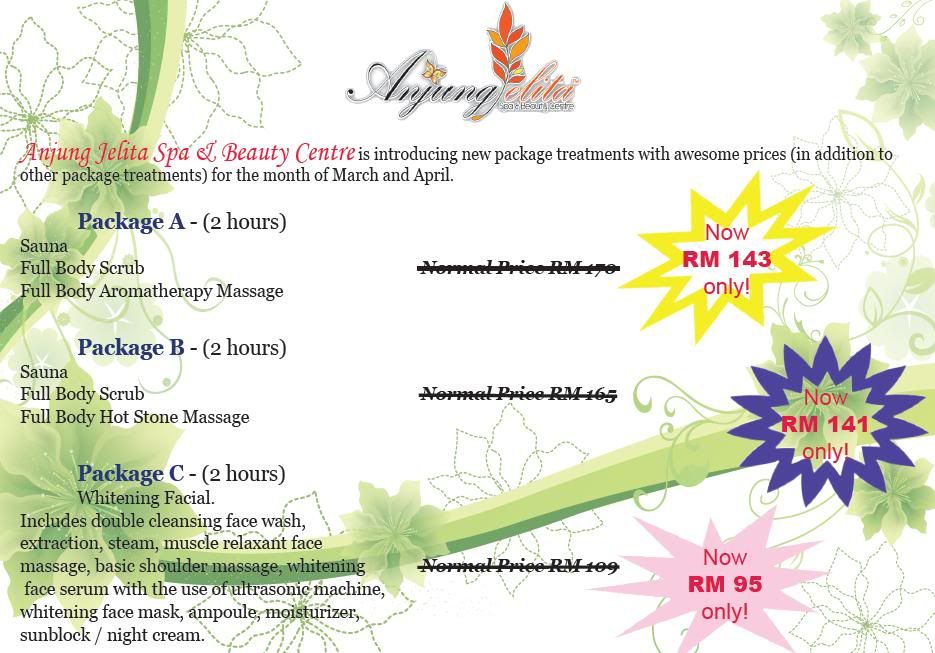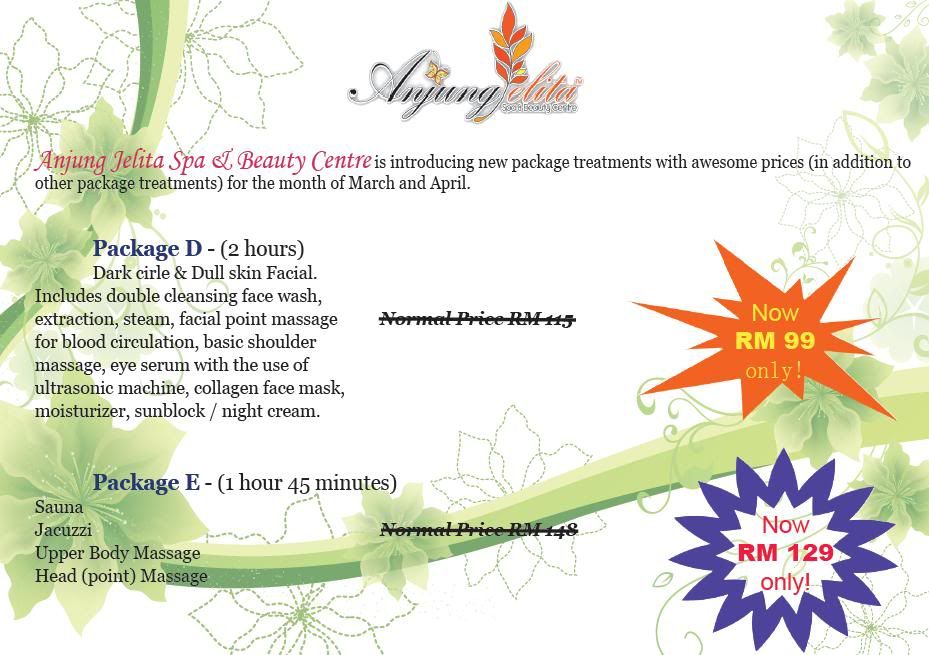 Ha.. memang tak dapatlah spa dengan harga yang sangat berbaloi ini di mana-mana kan? So.. mana yang dah teruja tu.. sila lah book cepat! Pada si suami tu.. boleh lah bagi gift kat si isteri ke.. mesti isteri bertambah sayang bila dia dapat berspa di Anjung Jelita! Wink! Ehem.. ehem.. habis je i buat treatment hari tu kan.. laling terus rasa tangan i.. "ermm… lembutnya…" then siap ambik bau lagi.. "ermm.. wanginya…" ahakssss…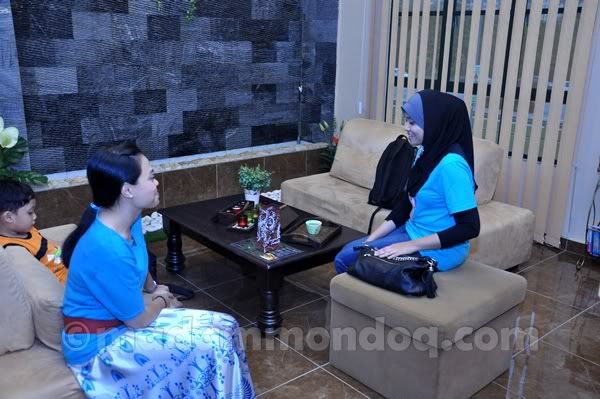 Sesi beramah mesra dengan Bella.. pemilik Anjung Jelita Spa
 Pose with Bella… Thanks Bella for make me feel fresh and awesome!!
 Anjung Jelita Spa.. segala details mengenai spa ini boleh terjah entry INI..
ehem.. ehem.. i ada

2 : RM50 Cash Voucher

from Anjung Jelita Spa!!
Setelah berfikir panjang.. dengan berbesar hatinya aku nak lambung-lambungkan kat korang ni.. siapa nak sila angkat keyboard??? hehe.. ok.. aku tak nampak pun korang angkat keyboard tu.. so.. kalau korang nak.. sila ikut details di bawah :
Lengkapkan slogan ini :

"Saya dah teruja nak berspa di Anjung Jelita Spa kerana…….."

(suka hati lah nak berapa panjang pun..)

Tinggalkan slogan

korang tu

di ruangan komen di bawah.

Ok dah!!! itu je.. senang kan?
2 peserta bertuah

dengan

slogan yang paling kreatif dan menarik

akan berjaya memiliki

RM50 Cash Voucher from Anjung Jelita

!!

HUG DEEP.. DEEP..

DONE!