Hye ualllzzz.. Selamat Monday Blues!!!! ahaksss…
Ala.. kompem ramai yang monday blues rini kan? lagi-lagilah yang berdedikasi menjalankan kerja di opis sekarang ni ha. Mana yang still lagi cuti tu.. amboiiii.. syok kan korang? jelesssssss mak nak!!! haha.. Takperlah.. kerja perlu diteruskan dengan ikhlas.. yang mana cuti tu.. gunakan masa untuk rehat dengan sepuas-puasnya dan luangkan masa bersama keluarga yek.
Oleh kerana hari ni monday dah jadi bluesssss.. so aku just nak ceciter pasal Danish punya sabun. Sabun…… di bilik mandi.. oh sabun!!!!!! wei.. apa citer pasal sabun pulak ni? hehe.. suka hati i lah kan.. haha.. Actually mummy-mummy or daddy-daddy… korang pernah try tak Drypers Baby Care kat bawah ni?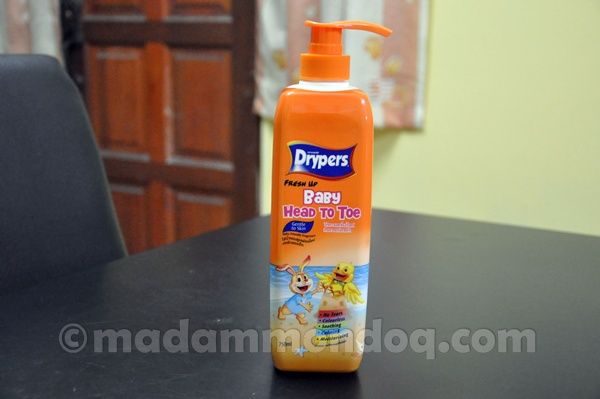 Drypers Baby Head To Toe..
Sebelum ni Danish dah try macam-macam jenis Baby Bath.. dalam banyak-banyak tu yang paling aku suka Johhson & Johnson. Tapi Johhson & Johnson ni bau dia takdelah wangi sangat. Yang lelain brand tu pulak aku tak berapa nak suka dengan bau dia. Tapi kan.. lepas aku tahu Drypers ada keluarkan Baby Care baru ni.. terus laju-laju aku pi beli kat Tesco. Sekali dah cuba… terus jatuh cinta ok!
Sedap giler bau dia.. wangi sangat.. then lepas beberapa jam mandi pun.. aku cium Danish still ada lagi bau wangi dia melekat.. wah.. i like!!! and surelah Drypers Head To Toe ni ada complete with a tear-free formula yang tidak memedihkan mata. Maklumlah.. Danish tu cerewet tang syampoo.. dia tak nak yang ada pedih sikit pun.. penakut sangat. Actually Drypers Baby Care ni ada jugak yang berasingan.. Drypers Baby Bath and Drypers Baby Syampoo. Tapi aku suka beli yang Head To Toe.. senang.. picit and terus boleh sapu satu badan..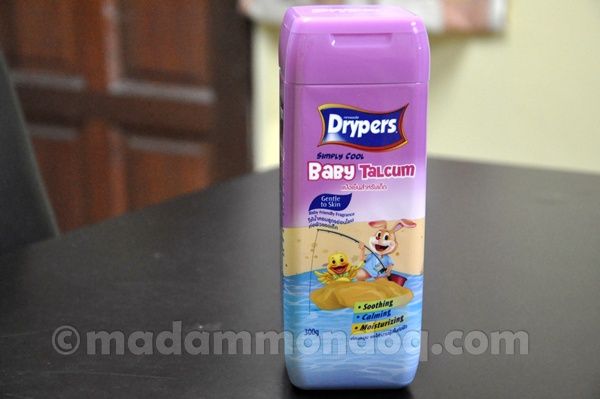 Then.. lepas mandi dengan Drypers Head To Toe.. aku mandikan Danish dengan Drypers Baby Talcum ni pulak.. Amboi.. semerbak betul bau dia.. 1 rumah wangi!!! Aku rasa inilah the best bedak baby yang bau dia sangat sedap..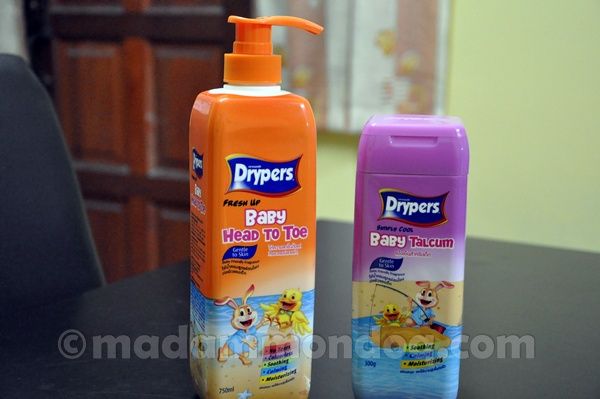 Now.. complete Danish menggunakan Drypers Baby Care ni..  rasa macam dah tak nak bertukar dengan yang lain sebab dah jatuh cinta dengan Drypers! wink!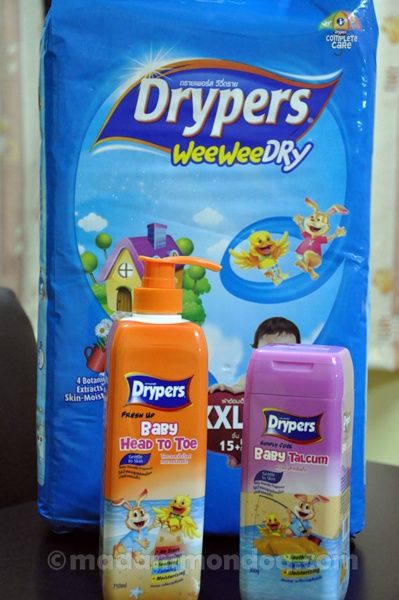 Eh.. kebetulan pulak memang dari kecik Danish pakai Pampers Drypers.. Ha.. elok lah tu.. semua nak Drypers sokmo yek?
HUG DEEP.. DEEP..
DONE!