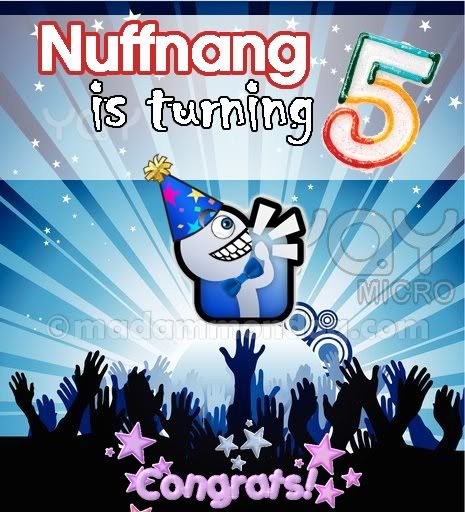 Yeay!!! Nuffnang is turning 5 this year!!!
A very big clap and congratulation tu Nuffnang!!! clap..clap.. clap…
First… Let's together sing this birthday song with 3 little chipmunks dance!! so cute ok!! and i dedicate it special to u Nuffnang!!
Walaupun baru setahun aku bersama dengan Nuffnang.. tapi dah macam 5 tahun ok! Banyak betul kenangan-kenangan manis dengan Nuffnang. And now.. Nuffnang is turning 5 pulak! Rasa macam cepatnya masa berlalu.. Kalau lah aku dapat bersama Nuffnang from the First Nuffnang Birthday.. Wow!! mesti lagi happening!
Ditambah lagi dengan berita gembira bila Nuffnang dengan berbesar hatinya telah invite semua Nuffnangers to celebrate Nuffnang exciting 5th year!! Wohoooo!!!! Sure lah aku akan join kan..
So.. oleh kerana ini tahun pertama aku akan celebrate Nuffnang Birthday… haruslah aku over excited about the birthday celebration yang coming soon tu kan. Tapi sure celebration this year akan superb merrier because all the Nuffies and Nuffnangers were so sporting and happening! Wink!
The macho Stick Man will celebrate his birthday with a wonderful celebration this year!! See his smile with his shining teeth?? Nampak sangat kegembiraan yang terserlah di wajah Stick Man kan? Ahaksss…
So…. how you think the famous Nuffnang stick man should celebrate his 5th birthday?
Ermm.. setelah aku berjaya ajak Stick Man ni kuar dating semalam.. maka.. dapatlah aku mengorek segala harapan dan wishlist yang dia harapkan untuk memeriahkan dan membuatkan hatinya gembira di party celebrationnya soon..
Jadi.. dengan tidak membuang masanya.. aku akan ceciter kat korang apa yang Stick Man harapkan untuk birthday celebrationnya nanti…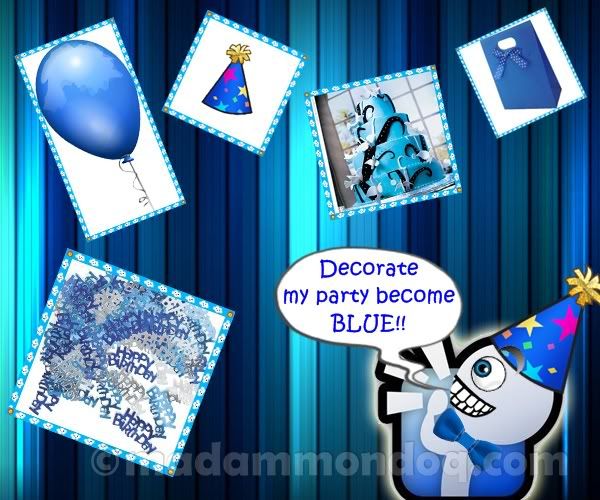 Stick Man berharap yang segala persiapan dan perhiasan dan decoration birthday partynya nanti all in BLUE ok! termasuklah birthday cake, balloons, hats, goodies bags, candles, foods, drinks.. semualah!! fuh.. layan blues jek Stick Man ni.. romantik betol lah.. kompem my black eyes will become bluesssss lah nanti.. hehe..
Stick Man juga akan bertambah teruja dan happy giler bila korang yang datang celebrate birthday dia nanti pakai costume all in BLUE jugak! Wow.. ni best ni!! kompemlah i kena pi shopping cari baju biru kan..
Stick Man kata dia nak buat Best Dress For Male and Female!! Wohooo!! happening ok.. pastikan korang datang nanti melaram habis-habisan ok! pastikan gorjes to the max!! hehe…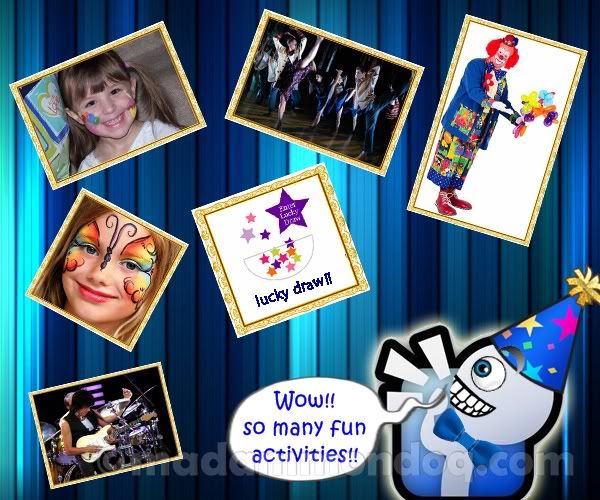 Stick Man juga akan adakan berbagai-bagai aktiviti yang menarik.. antaranya :
Birthday Face Painting
Clown performance
Dance Performance
Singer performance
Games
Lucky Draws
Acara kemuncak semestinya adegan suap menyuap kek dan berposing sakan dengan Stick Man!! i like!!
So.. dengan sedikit permintaan dan harapan dari Stick Man ni harap dapatlah menggembirakan dan menambahkan lagi kemeriahan Nuffnang birthday celebration nanti. Tak sabar rasanya nak jumpa and bermingle-mingle dengan semua Nuffnangers dan Nuffies nanti.
Lastly.. from the bottom from my heart i dedicate this poem to my prince charming

Mr. Stick Man

…
DUDE aka Stick Man
Look Dude,
I'm tired of telling you,
How much you mean to me,
So let's meet this 26 Feb,
At our favorite spot Neverland Club,
Once more I'll let you see,
I don't care about anyone else,
I have no one else on my mind,
So to prove it again,
I'll kiss you muah! muah!,
Happy Birthday,
One more time.
HUG DEEP.. DEEP..
DONE!