Contest time!!! Yahoooo…
Ok.. berita gembira pada sesiapa yang berminat.. atau sesiapa yang kecundang dalam Giveaway yang lepas.. atau sesiapa yang  kaki karok.. atau sesiapa yang teruja tengok kitorang Bloggers Karok Dengan Zarul Umbrella sesi yang lepas tu.. So.. here we go…
CONTEST KAROK With Zarul Umbrella Featuring Madammondoq, Abangensem & Eyriqazz
Tajuk contest agak panjang sebab semua nak enterprame.. ahakss.. tapi no hal lah.. yang penting… apa hadiahnya???
HADIAH CONTEST KAROK INI ADALAH :
3 PEMENANG BERTUAH

yang akan disponsor oleh Madammondoq, Abangensem & Eyriqazz akan dapat join kitorang karok pada :
Tarikh :

25 Februari 2012 (Sabtu)
Tempat :

Red Box Sunway Pyramid
Ha.. menarik tak? Pada sesiapa yang teringin sangat nak join and request nak join kitorang untuk next session karok tu boleh lah join contest ini. Mana tahu ada rezeki korang menang and boleh berduet dengan Zarul Umbrella ke kan? Wink! Tak pun korang boleh layan Jutawan Hartanah and Sifoo Blogging ni nyanyi LIVE! Wink lagi! Takpun.. ada ke yang teringin nak tengok Inul Goyang LIVE jugak! Wink lagi lagi! ekekeke… Dah teruja nak join? Boleh baca details kat bawah ni yek..
CARA-CARA NAK MENYERTAI CONTEST INI :
1. Buat satu entry yang bertajuk "CONTEST KAROK With Zarul Umbrella Featuring Madammondoq, Abangensem & Eyriqazz" di blog korang.
2. Letakkan banner Contest di atas di dalam entry itu dan link kan ke entry ini.
3. LIKE Fanpage Madammondoq.com, Abangensem.com and Eyriqazz.com
4. Cipta DIALOG yang kreatif dan menarik untuk 2 gambar di bawah dan tempek dalam entry korang tu (tak kisahlah dialog pasal apa pun.. sedih ke.. gembira ke.. puji ke.. lawak ke.. etc..)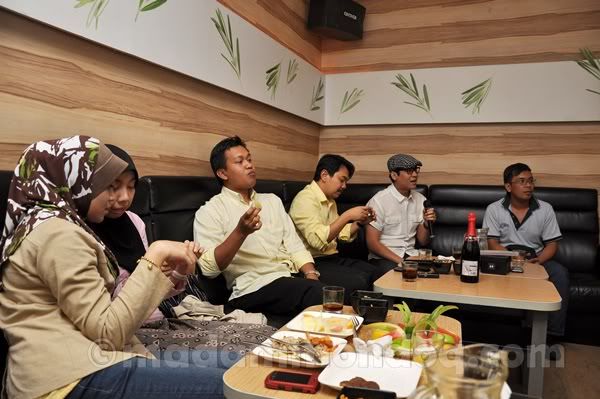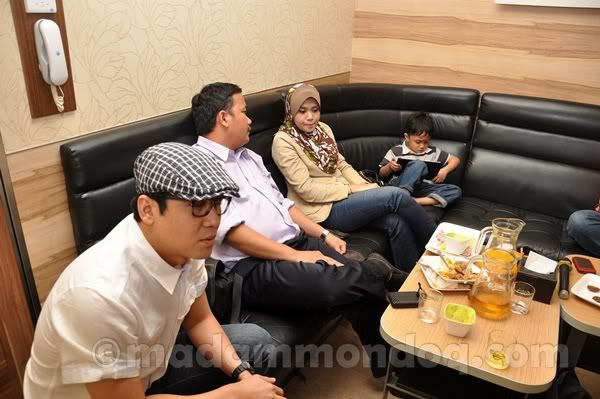 5. Letakkan ayat ini di akhir entry korang tu : "Hadiah Contest Karok ini ditaja bersama oleh Abangensem.com dan Eyriqazz.com"
6. Setelah selesai.. hantarkan permalink entry korang itu di ruangan komen di bawah.
CARA PEMILIHAN PEMENANG CONTEST INI :
1. 3 entry dengan DIALOG yang paling kreatif, menarik dan berjaya membuatkan kami para juri tersengih sampai telinga akan dinobatkan sebagai PEMENANG! (Para juri terdiri daripada Madammondoq, Abangensem dan Eyriqazz)
2. Pemenang juga dipilih jika korang memenuhi 6 syarat-syarat di atas.
3. Contest ini bermula dari 9 – 20 Februari 2012 (tepat pukul 11.59 mlm)
4. Pemenang akan diumumkan pada 22 Februari 2012.
Ok.. senang jek kan? Tempek 2 gambar tu dalam entry korang then buat dialog.. tak kisahlah nak buat dialog awan-awan kat atas kepala tu ke.. atau just nak write down dialog bawah gambar tu pun semuanya diterima asalkan ada dialog and kreatif!
Good luck  to all!!
p/s : Contest berlangsung hanya seminggu lebih je.. so jangan ketinggalan and cepat-cepat buat entry k! Wink!
HUG DEEP.. DEEP..
DONE!