Firstly thanks a lot to Nuffnang kerana menjemput aku ke event Maybelline New York Fashion Week Workshop. Firstly dengar… Maybelline!! Wau.. bestnya!! begitu terujanya aku sebab aku memang sukakan all the range make up dari Maybelline. Masa baru berjinak-jinak dengan make up dulu pun aku banyak guna make up dari Maybelline. Sebab kualitinya yang bagus dan dah tentu harganya yang sangat berpatutan dan mampu milik.
Korang pernah tengok tak citer America's Next Top Model? Of kos lah pernah kan..  so.. kali ni Maybelline dengan bangganya akan menjadi sebahagian dari event of the year – New York Fashion Week!! Jadi.. dengan itu Maybelline telah mengadakan exclusive bloggers' workshop courtesy of Maybelline. Pada aku memang sesuai sangatlah Maybelline satu nama yang gah turut serta dalam New York Fashion Week tu kan?
So.. untuk Exclusive Blogger's Workshop dari Maybelline ini.. kitorang bloggers yang hadir telah diajar how to make up and dress up just like kitorang punya favourite fashionistas in New York! Yang besnya lagi.. kitorang diajar cara bermake up dan cara berposing ala model untuk photoshoot.. Oh.. teruja giler aku!! Dahlah aku ni memang kaki make up kan.. so memang rasa macam dalam hati ada tamanlah bila dapat attend event ni.. hehe..
Dalam sesi bermake up-make up tu sempat lagi aku snap pictures.. tu of kos lah kan.. sebab aku tahu korang mesti suka nak tengok kan? hehe… Gambar melambak giler ok.. so jom layan sambil aku ceciter k.. Layan…
 Waktu baru sampai tu.. relek-relek kejap then posing with a few bloggers yang hadir.. ni baru sikit ni.. ada ramai lagi ok..  Antaranya yang aku kenal tak lain dan tak bukan.. ketua talibaruts.. KakinaKL, CikLilyPutih, Farraeng and yang baru aku kenal hujung sekali baju hitam tu.. Jard.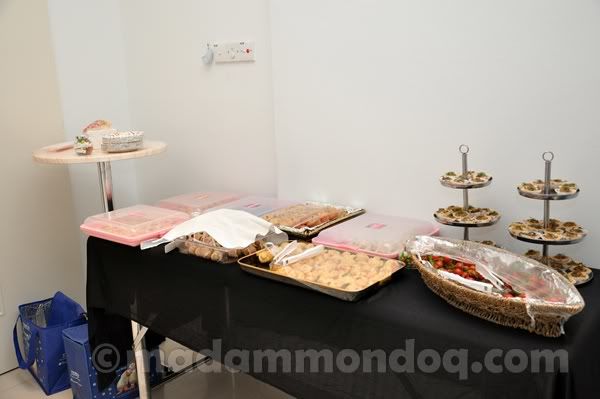 Sebelum start event.. acara wajib.. makan-makan dulu… All the finger foods ni sedap-sedap belaka tau..
 Ok.. jom tengok geng-geng make up semeja aku.. depan kiri kanan aku semuanya blogger hebat yang cun-cun ok.. Suka aku tengok diorang.. really beautiful moms!! Sebelah aku tu Pinkstilettos.. depan aku Ceeramon and Viruspadu.. Then Farraeng and Jard.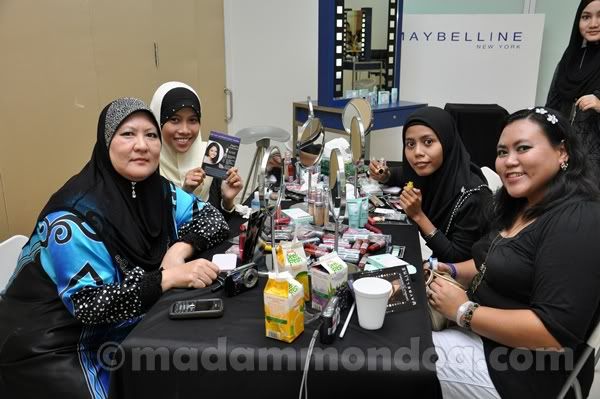 Ni meja jiran sebelah kitorang.. geng meja talibaruts.. yang tudung putih tu Zurie.. yang serba hitam tu.. Hatisamronkin..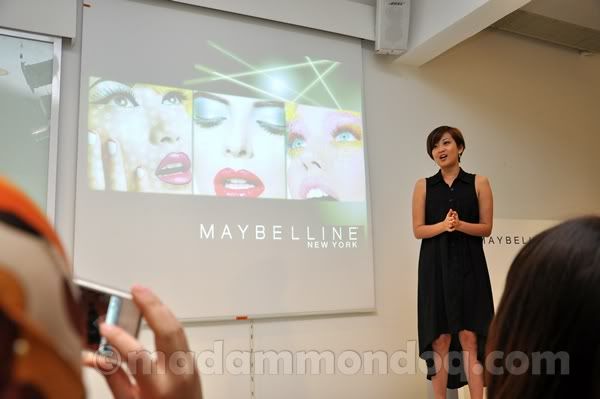 One of Maybelline staff mulakan sesi dengan memberi penerangan tentang Maybelline Product.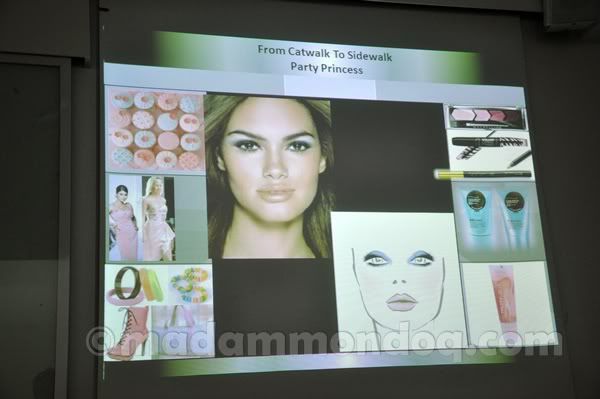 Kitorang di ajar 4 cara make up yang berlainan tema. Yang ni untuk make up Party Princess yang  ala-ala comel-comel sweet-sweet gitu..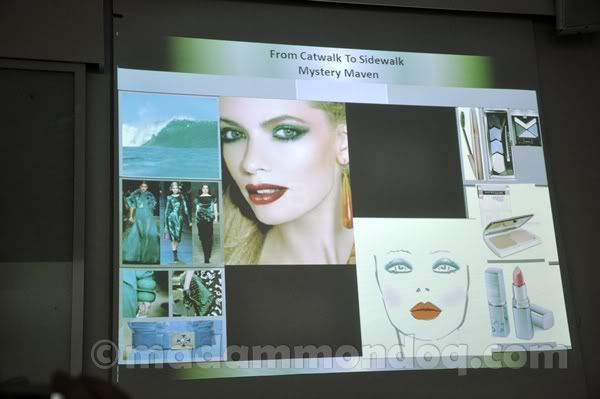 Yang ni pulak make up tema Mystery Maven.. ha.. yang ni aku suka sebab ala-ala bond girl gitu.. and yang paling aku suka sebab make up matanya yang ala-ala Bollywood tu..
 Yang ni Sexy Starlet.. Uh.. kalau ada bibir cam model tu memang seksi benorlah make up gaya gini. Soft but seksi!!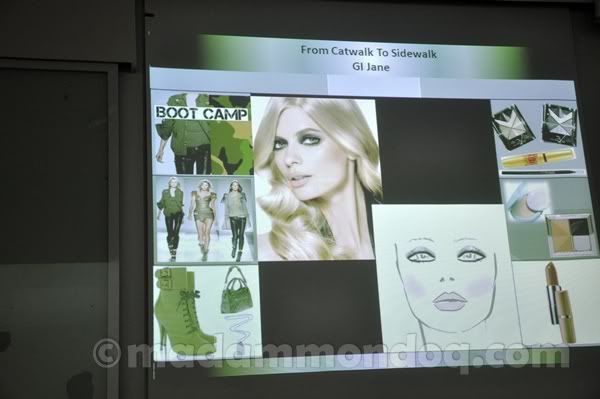 Last one.. GI Jane.. ni pun aku suka sebab make up lebih menyerlah kan bahagian mata.. gorjes!!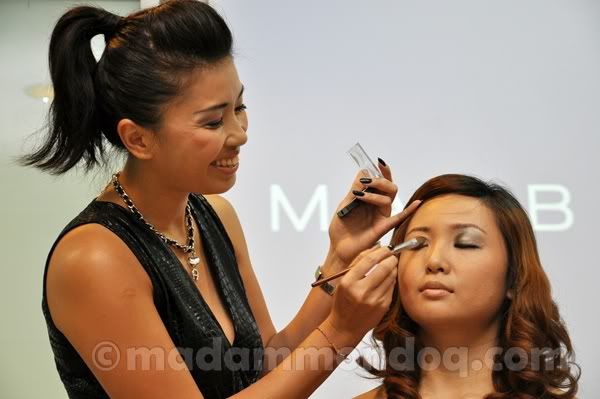 Ni lah make up artist yang ajarkan kitorang. Time ni she tengah make up kan modelnya tema GI Jane.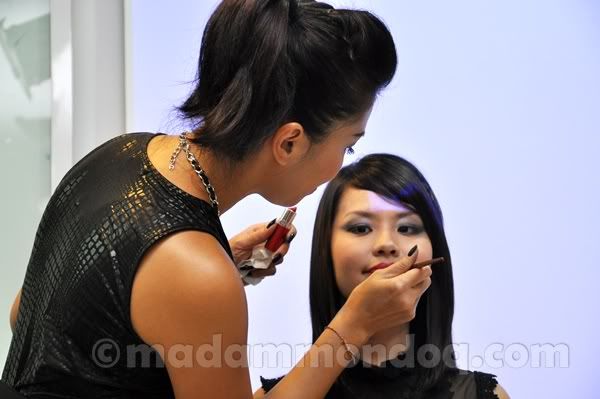 Another one ni die tengah ajar make up Mystery Maven. Tapi modelnya yang ni very sweet btol mukanya..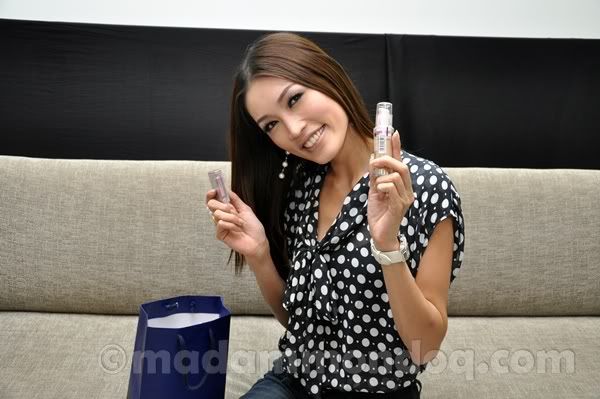 Then… tadaaa!!! tengah syok-syok tengok make up artis tu ajar make up.. tetiba Amber Chia datang!! Ingat tak Teaser aku Ada Apa Dengan Amber Chia tu? Oh.. bukan main lah kan masing-masing on kamera and terus snap-snap.. Aku antara orang pertama yang terus snap gambo die. Amber pulak terus pegang Product Maybelline sambil pose!
 Then.. tibalah giliran Amber Chia bagi explanation tentang cara-cara nak posing gaya model dengan betul. Ha.. tengoklah gaya die tu.. antara yang dia ajar.. kalau nak posing tu kena Think.. Imagine.. and Feel.. Macam gaya die buat tu.. Baru dapat pose yang superb!! hehe.. cuba korang try.. ekeke…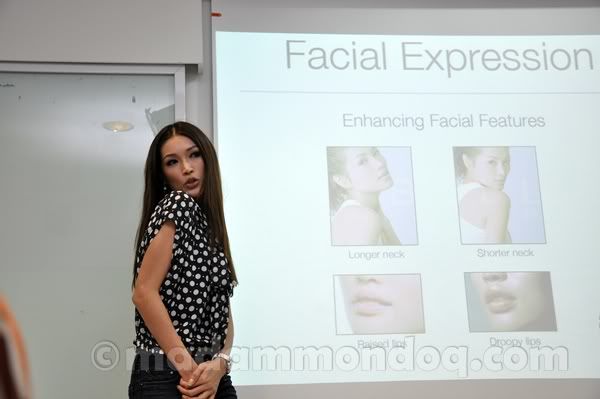 Macam-macam gaya expressionlah yang die ajar dan tunjuk.. Yang peliknya.. semua gaya yang die pose.. semua superb tau! Pelik aku tengok.. Yolah.. dah nama pun Top Model.. of koslah posing apa pun cantik..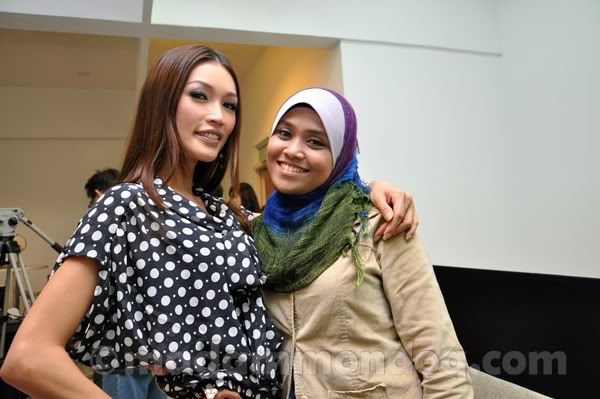 Yeay!! Pose with Supermodel!! alamak.. tak cukup tinggi ke aku? Rasa dah high heel benor dah aku pakai time ni. Uh.. tinggi gilerlah si Amber ni. Tapi Amber ni sangatlah peramahnya tau. Sangat suka tengok die melayan semua peminat yang nak pose dengan die. Ditambah dengan gelak hu.. ha.. hu.. ha.. die lagi. Memang happening gilerlah Amber.. I like!!
 Ha.. top blogger pose with top model..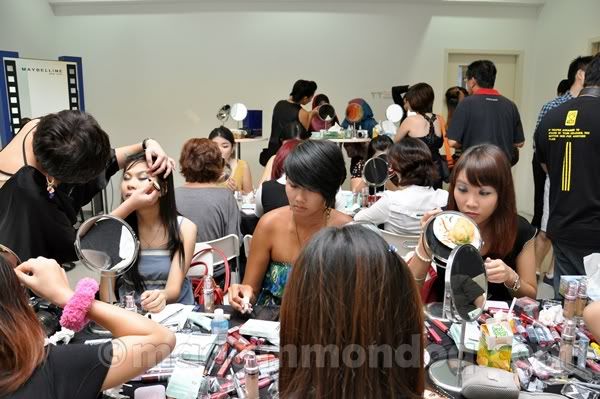 Then.. lepas posing-posing with Amber Chia.. kitorang pun startlah acara make up muka sendiri.. hehe…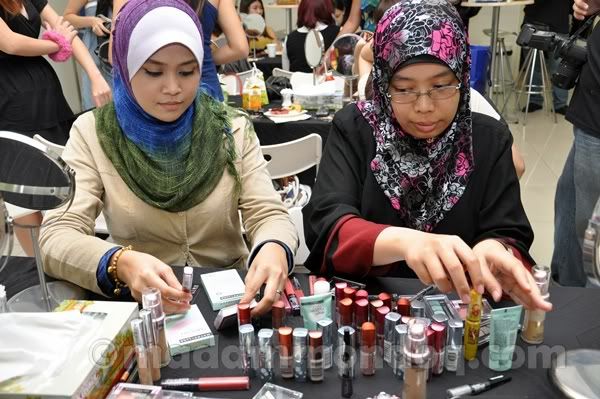 Cuba tengok betapa banyaknya Produk Maybelline yang aku dengan Jard tengah susun ni.. Semuanya baru.. dan semuanya khas untuk kitorang guna untuk make up muka kitorang.. Terbaiklah kan!
 Ok.. make up session start!! Maka.. tempek lah kitorang segala apa yang ada kat atas meja tu. Kitorang kena pilih satu dari 4 tema yang di ajarkan tadi tu.. So.. aku pilih Mystery Maven.. ntah mystery ke tidak ni ntah.. main tenyeh jek.. hehe..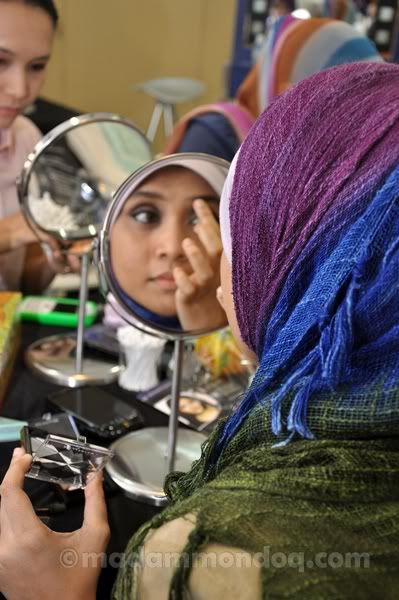 Tempek eyeshadow pakai tangan jek ye.. sonang.. hehe…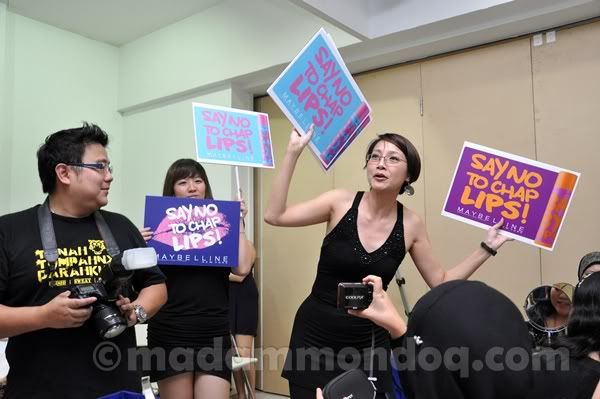 Then.. lepas semua dah gorjes siap make up.. tetiba all of the Maybelline staff ni dok berkempen melaung-laungkan "Say No To Chap Lips!!!!"
 Semua pose menunjukan bibir mungil memasing.. hehe.. Korang boleh cariklah Lip Balm Maybelline ni. Memang bagus untuk bibir yang pecah-pecah atau kering tu.. kalau diamalkan selalu.. bibir korang boleh jadi baby lips!! uh.. best kan?
 Meja sebelah pun nak jugak show off kan kegorjesan diorang lepas dah make up.. uh.. memang gorjes sungguh.. exspecially ketua talibaruts tu.. ahakss…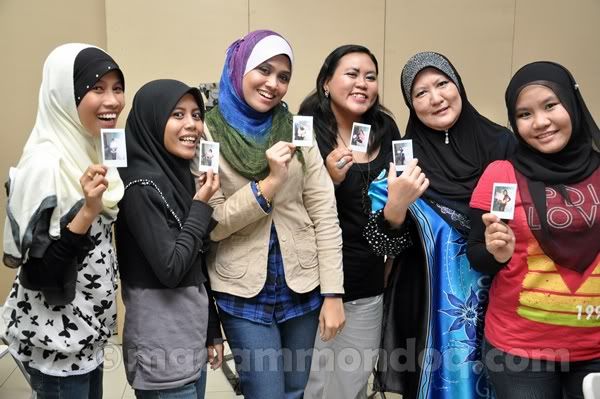 Masing-masing pegang gambar sendiri sambil sebut "Ciwawa…." Actually Amber Chia ajar.. kalau nak pose dengan mulut yang terbuka tapi sweet.. korang kena sebut "Ciwawa…" then snap! Ha.. nanti jadilah macam mulut aku tu.. hehe.. cun jugak kan?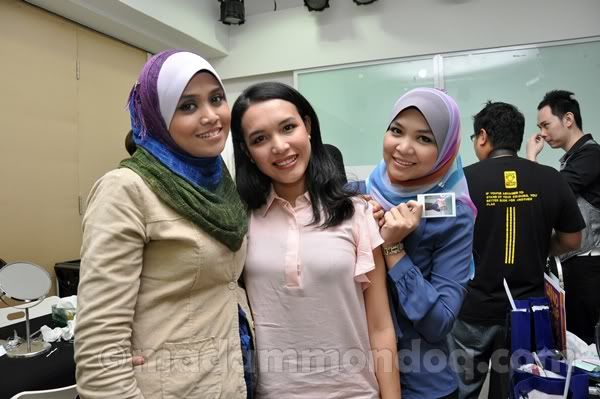 Sebelum berakhirnya sesi.. kitorang semua posing sakan.. then aku pun pose lah dengan blogger yang baru aku jumpa.. Ceeramon and Viruspadu. Dua-dua beradik ni jelita sungguh..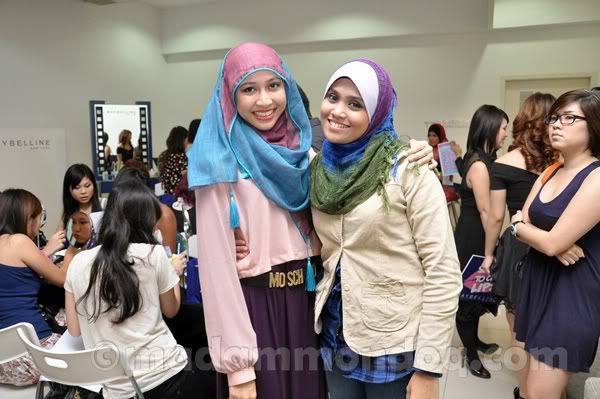 And.. tadaaa…. Maria Elena in the house!! Uh.. aku rasa kalau die diri sebelah Amber Chia sama tinggi kot.. Gorjes famous blogger ni bila dah make up.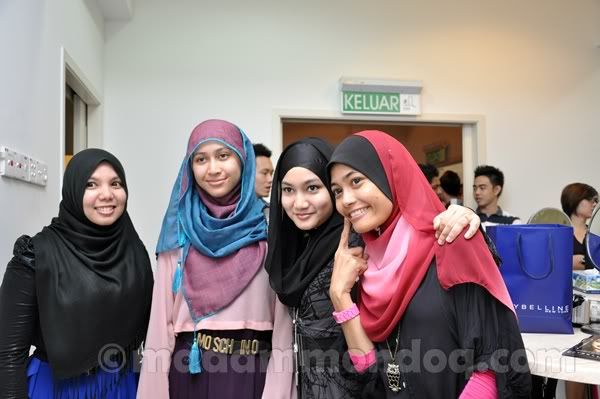 Cik Epal dan Nisa Kay pun ada jugak.. posing with Thara (Nuffies)
 And the last pictures with the happening pose!!! "Ciwawa….."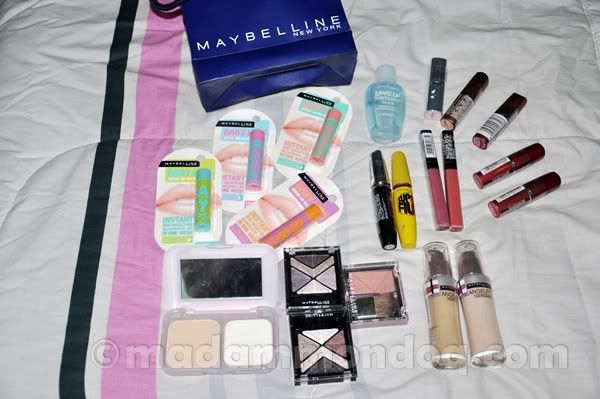 Lepas dah sampai rumah terus aku belek apa yang aku sempat sambor masa event tu.. inilah hasilnya!!! plus dengan gift yang Maybelline and Amber Chia bagi sekali.. Actually semua barang yang diberi untuk kitorang make up tu.. kitorang boleh ambik mana yang kitorang suka.. Oh.. I love u lah Maybelline!!!
So.. kesimpulannya.. terima kasih sangat aku ucapkan pada Nuffnang, Maybelline dan Amber Chia kerana telah sudi menghiburkan aku dengan event yang sangat happening ni. Banyak tips-tips dan cara-cara make up dan pose yang aku dapat belajar. Kitorang semua bloggers pun sangat enjoy and really love Maybelline Products!
p/s : Pada any bloggers yang nak mencilok gambar tu.. boleh cilok di Madammondoq.com Fanpage ye.. Gambar u alls banyak kat situ.. Selamat mencilok… (kalau takde lagi gambarnya kena tunggu petang sikit.. :))
DONE!