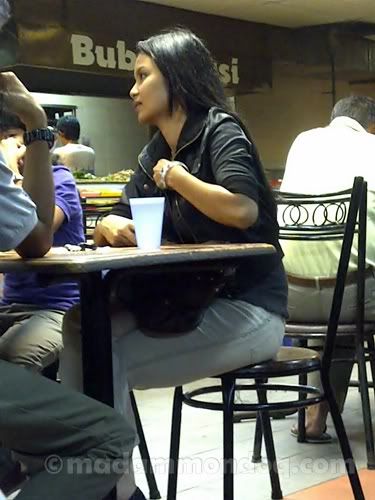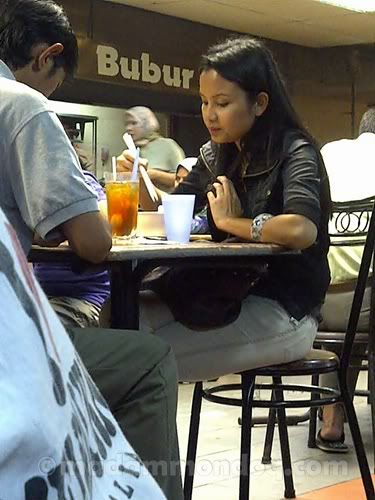 Korang cam tak siap artis kat atas tu? Tak cam? ish.. ish.. nampak sangatlah die dah lama menyepi.. huhu… Cuba tengok yang bawah ni pulak.. cam tak?
Ha.. kalau siapa peminat tegar Drama Spa Q yang glemer dulu tu mesti cam kan? Actually pelakon yang sweet ni namanya Nisha Dirr atau nama betol die Nik Shahri'ah Nik Dir. Dulu kan die berlakon dalam Spa Q musim pertama and kedua. Tapi sekarang macam dah lama pulak tak nampak die berlakon kan? ke ada? aku yang tak perasan ke? Dulu aku suka tengok die dalam Spa Q tu sebab muka die sweet je..
Untuk makluman.. gambar-gambar Nisha Dirr yang tengah makan kat atas tu semua gambar curik ye.. siapa yang curik? aku lah.. hahaha.. Actually satu hari aku pi makan ngan laling kat Restoran Night Circle kat Shah Alam ni ha.. tetiba si Nisha Dirr ni datang and duduk betol-betol sebelah meja aku. Terus aku cakap ngan laling.. "Eh.. tu kan pelakon Spa Q tu kan?" Tapi hampeh je tanya kat laling aku sebab die mana lah layan citer-citer camtu. So.. manalah die kenal kan?
Korang rasa si Nisha Dirr tu tengah makan dengan siapa? Jeng.. jeng.. jeng… haha.. Uish.. tak boleh gosip-gosip ye bulan puasa ni. Aku rasa die datang makan dengan family dielah.. sebab ada mak die.. adik die.. and may be yang lelaki tu abang die kot. Kalau u all nak tahu jugak Nisha Dirr ni dulu pernah berlakon dalam banyak gak drama kat tv tu.. antaranya Misi XX-Ray II, Ha! Cucu Opah Nak Kahwin, Aku Tanpa Cintamu, Dan Jendela Pun Terbuka, Mrs Beckham, Bayangan Wajah, Aku Cinta Aku Rindu dan Akademi Cinta.
DONE!