Sempena bulan puasa ni sure ramai yang akan cari Buffet Ramadhan kan? Lagi-lagilah pada sesiapa yang nak belanja kawan-kawan atau sanak saudara berbuka puasa. Actually dalam beberapa tahun ni aku ada jugak try Buffet-Buffet Ramadhan ni. Ada beberapa tempat jugak aku dah try. And mostly area Shah Alam lah. Ada tempat yang best and ada tempat yang tak best jugak. Maksud aku tak best dengan environment dan kemudahan yang disediakan lah.
Pada siapa yang memang kaki makan atau kuat makan memang berbaloilah kalau bayau buffet ni kan. Tapi pada siapa yang ruang perut die kecik benau tu.. oohh.. sangatlah rugi.. hehe.. Dulu ruang perut aku kecik jugak, makan sikit je dah kenyang. Tapi lepas Danish dah keluar ni, perut aku macam dah kembang and boleh sumbat banyak-banyak.. haha.. So.. tak rugilah kalau sesiapa nak ajak aku berbuka Buffet Ramadhan ni.. ahaksss..
Actually aku ada terjumpa beberapa Buffet Ramadhan yang agak best dan ok lah pada aku. So.. kalau korang nak try pun boleh jugak. Boleh promote dengan kawan-kawan korang yang nak belanja korang makan tu.. hehe.. So jom layannn…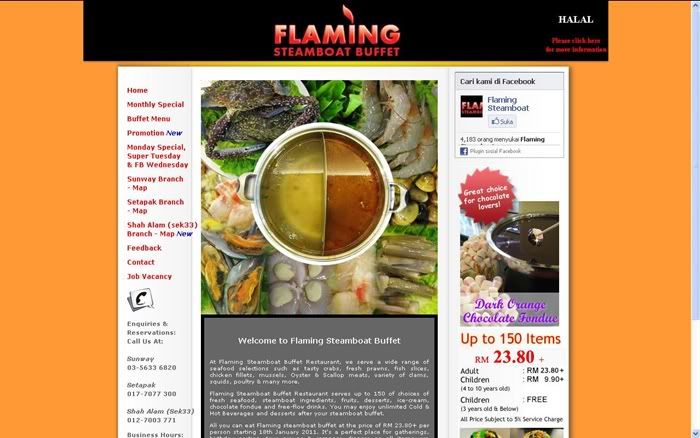 Actually aku ada pengalaman ngeri pasal Buffet Ramadhan ni. Apa yang penting dari kejadian itu sampai sekarang kitorang tak kan jejak kaki ke Kelab Shah Alam lagi.. Kenapa? nantilah bila-bila kang aku citerlah..
p/s: Tolong klik LIKE and TWEET kat bawah tu untuk share dengan yang lain ye.. Thanks..
DONE!