Korang rasa ular tu yang nak telan budak tu ke.. atau budak tu yang nak telan ular tu? Takpun.. siapa yang berjaya telan siapa? hehehe.. As  usual si Danish ni kalau bab-bab posing ni memang die very the expert! Mana taknya.. kuar dari perut ibu die jek terus dah pandai posing. Dari kecik makcik-makcik and pakcik-pakcik die dah ajar die jadik model.. ish.. ish.. Dah besor kang tak boleh jadik model tau?
Dengan gambar ular ni jek beranilah die nganga besar-besar camtu. Tapi bila tunjuk ular betol, punya dari jauh jek die menjeling. Gaya je macho.. tapi hati Jambu.. hehe.. Actually gambar ular besar ni ada kat Genting Strawberry Leisure Farm. Lepas laling amik aku balik dari kursus hari tu, aku teringin pulak nak singgah sini. So we all jalan-jalan lah kejap. Kat sini ada ular kuning yang besar tu. Ular Sawa Albino namanya. U all boleh posing dengan ular tu macam gambo kat bawah ni ha..
Sekadar gambar hiasan.. tapi camtulah rupanya ular sawa albino tu..
Tapi takdenyalah we all nak posing dengan ular tu kan. Eee.. geli aku!! Danish main cak-cak jek dengan ular tu. So.. kalau berminat nak posing dengan ular sawa albino ni, bolehlah jalan-jalan kat Genting Strawberry Leisure Farm ni. Eh.. sebelum habis.. rasa tak best pulak kalau tak tunjuk gambo sebenar ular telan budak tu kan.. hehe.. so layannn…. (tutup mata!!!)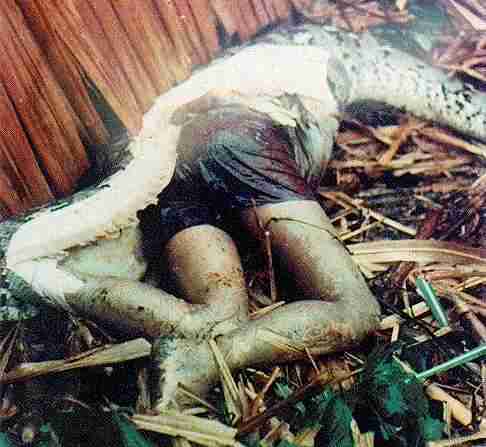 Credit picture to Google
p/s : Nanti aku updated pasal Genting Strawberry Leisure Farm pulak yek..
DONE!