Lepas dari kitorang jenjalan kat Genting Strawberry Leisure Farm tu.. we all terus ke Shah Alam. Tetiba laling ajak pi main salji kat Snow Walk i City Shah Alam. Laling kata kasi Danish training sejuk-sejuk dulu sebelum kita pi Aussie. Tapi sejuk kat dalam Snow Walk i City ni memang terlebihlah sudah! Very the sejuk gilerr arr!! kat Aussie pun takdelah sejuk yang amat macam tu. We all pergi sini hari bekerja,  so heaven coz tak de orang.  Laling sukalah jalan kat tempat yang takde orang ni. Kalau aku ajak pi Jusco sales ke.. Sogo sales ke.. terus pelbagai alasan yang kuar..  Laling aku ni memang suka jalan kat tempat yang tak ramai orang.. even kat mana-mana pun lah, bukan kat shopping complex jek. Jadi tersangatlah susah kalau nak ajak pi sales!
Actually aku yang dok Shah Alam ni pun tak pernah lagi pergi Snow Walk i City ni. i City tu pun aku tak pernah jenguk lagi.. huhu.. Padahal sekangkang kera jek. Jalan jauh-jauh boleh pulak yek. So far.. pada aku oklah tempat ni. Sangat besar ruang dalam tu, nampak dari luar macam kecik jek. Penat jugak kitorang berjalan sampai ke hujung tu. Dahlah Danish baru separuh jalan jek dah tak tahan sejuk. Jadi we all patah balik and amik udara panas kat luar tu dulu.. a few minutes later baru we all sambung masuk dalam balik.
Kat Snow Walk i City ni kalau korang tak tahan sejuk boleh je kuar masuk kuar masuk, asalkan korang jangan keluar terus dari gate utama die tu. Harga tiket ada aku tempek gambo kat bawah tu. Sebelum masuk wajiblah korang kene pakai jaket die dulu kan. Jaket tebal tu semua free, memang disediakan. Tapi tang kasut kene sewa yek. Jadi pesanan sebelum datang sini, pakailah kasut yang bertutup siap-siap dari rumah, so tak payah keluar duit nak sewa kasut macam kitorang.. haha.. Laling kebal masuk dalam pakai selipar jek! Tang sarung tangan or sarung kepala kene beli sendiri ok. Kat luar pintu masuk tu semua ada jual. So.. jom layannnn jeklah…
Sebelum masuk pakai jaket dulu.. almost jaket die semua kaler merah. Dah gaya Redmummy masa holiday kat Aussie!! ahaksss..
Masuk-masuk terus pose!! All in red jaket. Opss.. ada pengorek apa ntah pulak kat tepi tu.. fail betol lah..
One family.. happy family..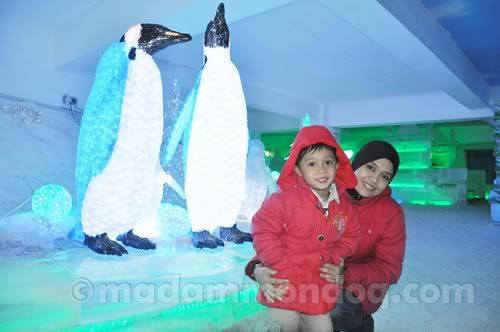 Penguin punyalah besar kat belakang tu.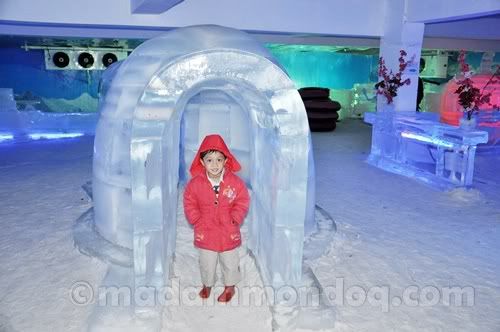 Danish pose dalam snow house.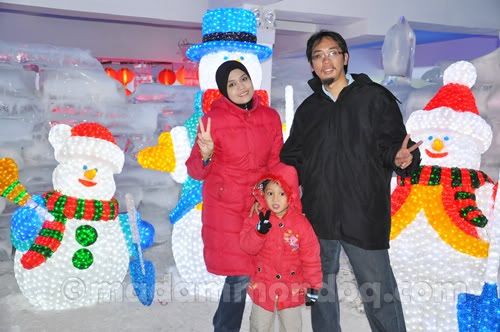 So colourful patung snow tu.
Ni dah dekat dengan pintu keluar dah.. Danish dah tak sabo nak kuar, tapi aku paksa soh pose lagi.. hehe..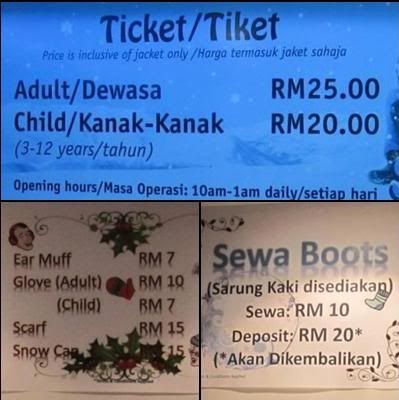 Aa.. nilah harga tiket nak masuk Snow Walk i City Shah Alam. Pastu ada sekali tu harga sewa boots and harga glove bagai tu semua.
Credit pictures to Atiaadina
Jadi rasa-rasa free and nak jenjalan Shah Alam ni, bolehlah datang singgah ke Snow Walk i City Shah Alam ni. Rasa aku lagi bestlah dari snow house yang kat Genting tu. Harga nak masuk pun berpatutan, takdelah mencekik darah kan? Lepas jalan-jalan Snow Walk i City Shah Alam ni, boleh pulak sambung jalan-jalan area i City. Tengok lampu-lampu yang sangat cantik!!
p/s: Ok.. Kalau nak share dengan kawan tempat yang best ni.. boleh klik LIKE or TWEET kat bawah tu ye.. Thanks!!
DONE!