Entry Melbourne kali ni aku nak ceciter pasal Sungai Yarra pulak. Sungai Yarra ni adalah satu-satunya sungai yang terletak kat tengah-tengah kota Melbourne ni. So.. imagine jek lah keindahan sungai yang terletak diantara bangunan-bangunan yang tersergam indah di kota Melbourne ni. Actually kitorang lalu sini waktu nak pergi Dinner di Crown Entertainment Complex. Saja je tourist guide park van jauh sikit supaya kitorang boleh jalan sambil posing kat Sungai Yarra ni. Pemandangan Sungai Yarra ni memang sangat cantik tak kiralah waktu siang ke atau malam. Tapi pada aku waktu malam lagi superb gorjes kot.
Kalau nak cerita keindahan dan kemudahan yang ada sepanjang Sungai Yarra di Melbourne ni memang esok pun tak kan abis. So aku citer sikit je especially area yang memang kitorang lalu. Dari jauh tempat kitorang berjalan boleh nampak  Melbourne Convention and Exhibition Center. Ni antara tempat yang agak famous jugak di Melbourne ni sebab biasanya kat area yang  seluas lebih dari 100.000 meter persegi ni kerap diadakan pameran, conference, and pertunjukan seni yang bertaraf dunia.
Crown Entertainment Complex tempat yang kitorang dinner ni pun betol-betol sebelah Sungai Yarra ni. Crown Entertainment Complex ni merupakan pusat hiburan yang paling ngetoplah kat Aussie ni sebab telah berjaya dinobatkan sebagai casino terbesar, terlengkap, dan termewah di Aussie ni. Pengunjungnya je hampir 200.000 orang per hari. Huh.. Pastu surelah bukak 24 jam kan. Masa kitorang lalu pi restaurant tuk dinner tu memang kitorang nampak pun casino tu. Tapi takdelah nak masuk menyinggah pun.. huhu.. Oklah jom layan gambar-gambar aku posing di Sungai Yarra ni versi siang dan malam yek.. Layan…
"Cepat Danish.. ibu dah lapo ni.." kitorang kene seberang jambatan kat belakang nun tu..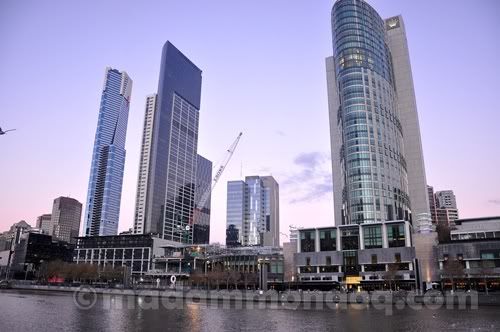 Keindahan kota Melbourne..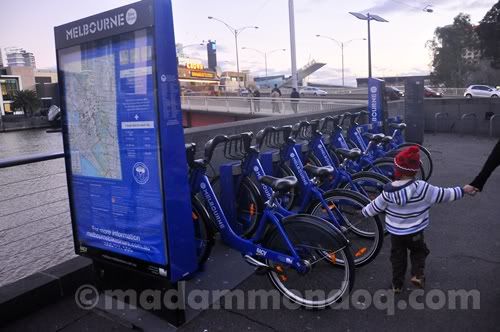 As yang aku story kat entry yang lepas-lepas penduduk Melbourne ni kan suka berbasikal. So.. nilah die basikal yang boleh disewa kalau kita dah penat nak jalan. Masuk kan je duit syiling dalam tu.. then dah boleh ronda naik basikal. Tempat sewa basikal ni banyak ada, and senang lah nak jumpa kat mana-mana.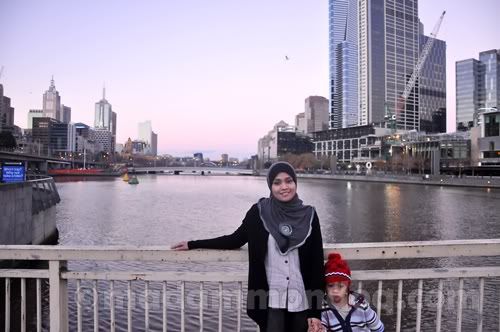 Muka agak serabai yang tengah kelaparan.. huhu.. Danish lagilah lemau… dah lah sejuk yang amat kat sini.. dok tengah jambatan kene tiup angin.. Fuh.. memang terbaik sampai ke tulang… Huh..
Ok.. ni versi malam pulak.. lepas habis kitorang dinner. Superb kan keindahan waktu malam?
Danish jalan syok sendiri menikmati pemandangan kota Melbourne.. hehe..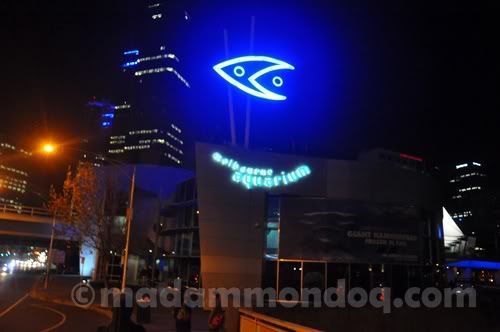 Ni Melbourne Aquarium.. kitorang lalu je.. tak masuk pun..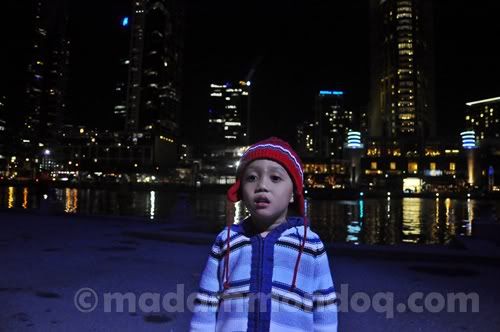 Apa kes ni? ni kes budak tak nak balik… nak lepak main kat tepi jambatan tu. Giler kau.. aku dah tak tahan sejuk yang amat. Malam lagilah sejuk giler.
Walaupun sejuk yang amat.. posing tetap posing.. hehe..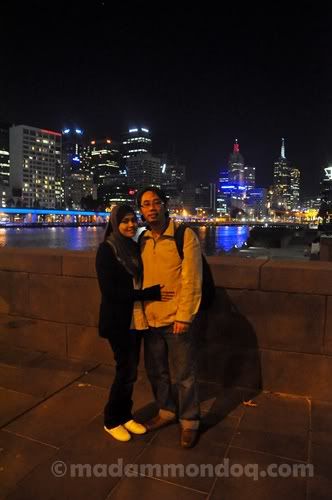 Oh.. i like!!!
Sambil kitorang jalan nak menuju ke van tu..  berhenti posing jap.. jalan lagi.. berhenti lagi.. posing lagi.. sampailah ke van.. Huh..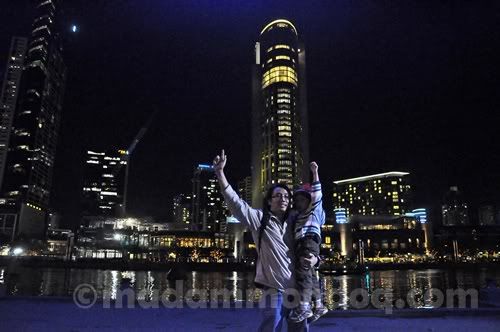 Yeay!! Ok.. last pose di Sungai Yarra then terus kitorang jalan lelaju masuk dalam van.. Sejukkkk!!!!
DONE!